This episode of
True Blood
resumes where the last one left with Tara's wild birthday party hosted by Mary Ann at Sookie's house. Sam and Daphne (new waitress girl) are walking through the woods and she undresses and reveals herself as – a deer! Yes, that's right – she is a shapeshifter too! I didn't see that one coming. Neither did Sam. I guess now they can frolic through the woods together as animals of their choice. Fun!
Sookie is still in Dallas at the vampire hotel and she confronts Barry the Bellboy as being a telepath too. He can't control his "gift" yet, so he is scared of it and doesn't want anybody – especially vampires to know he is one too.
Jessica of course gets mad at Bill for sending away the guy she ordered to feed off of. So what does she do? She calls Hoyt at home. So cute!
Bill and Sookie love the fact that they can sleep in the same bed together since the rooms are all secure from things like vampire killers and sunshine. How romantic!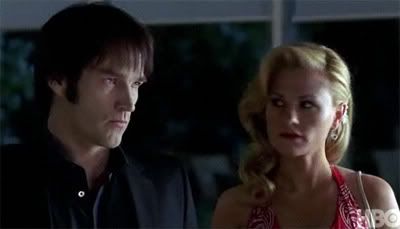 Eric brings Sookie and Bill to meet with some of the Dallas vampires that are with Godrick (the missing vampire) to figure out a plan on what to do next to find him. It is here that it is revealed how Eric was made a vampire – by Godrick when he was dying on the battlefield. He slaughtered the rest of his men but saved him to become a vampire because he was a great fighter.
Tara wakes up by Eggs - such a stupid name, what is his real name anyways? Mary Ann explains she doesn't have a place to stay anymore because her old house wasn't her's at all - it was one of her "clients" homes. She doesn't want her and Mary Ann's entourage to stay at Sookie's house, which infuriates Mary Ann. She stops by Merlotte's when Tara is working and messes with people's emotions to all turn on Tara to make her feel alone and like Mary Ann and her "people" care for her more than her real friends.
Lafayette comes back to Merlotte's and asks for his job back. When Sam asks him where he was, he refuses to answer (smart choice). Sam of course gives him the job back though and is glad he is okay.
Jason is still at the vampire killer camp training to kill vampires. While he was taking a bath, Sarah (the head guy's wife) comes in and locks the door behind her. Jason likes her – a lot but she is married and he does have some morals, right? Well, he just gets a handjob – for now. I see more happening and her husband coming after him soon.
The episode ends with Bill and Sookie having sex in their hotel room and a brunette (vampire) walking down the hallway outside their room. Anyone else recognize who this woman is? Well, in case you didn't – it is the vampire that turned Bill into a vampire! Wonder what kind of chaos she will create for them in future episodes and when will Sookie and Eric end up together?
Here is a look at what is to come this season – I'm excited!