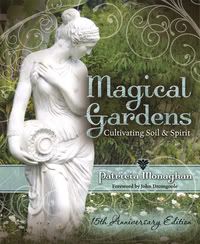 Magical Gardens
by Patricia Monaghan is a fun to read book about gardening and the mythology that has been weaved into it since history was recorded. If you have a garden or want to start a garden, no matter how big or how small, this is a book that you must read!
Book Description
"
Nurture your love of the earth with a garden rooted in your spirituality. In this updated 15th anniversary edition of the beloved classic, Patricia Monaghan offers fresh advice and guidance for creating a magical garden that will nourish your soul. Bursting with ideas and inspiration, this guidebook shows you how to plan, grow, and tend an enchanting garden that is sown with your unique spirituality.
Along with gardening advice for every climate and season,
Magical Gardens
weaves together myth and ritual to help you bring added power and meaning to your garden space. Discover the best plants for your site—being mindful of sun exposure, soil type, and climate zone—and learn about composting, controlling pests and weeds, gardening organically, and caring for plants at all growth stages. Perform meditations based on the year's gardening cycle, and celebrate each season and every milestone in your life with rituals, prayers, and ceremonies.
This book features more than a dozen themed designs for sacred perennial gardens that you can re-create in your own backyard or out on your patio. Easy-to-follow designs will show you how to create a garden in honor of:
—Angels
—Aphrodite
—Cats
—Dragons
—Fairies
—Kwan-Yin
—The Sun . . . and more
" –
Magical Gardens
My Thoughts
Magical Gardens is one of my top favorite books on gardening. Honestly, I'm not much of a gardener, but I would like to be. Books like this really inspire and give passion, which is just what I needed to start gardening.
The book itself is very easy and fun to read. Throughout it there are black and white drawings of gardens and flowers, which I found fun to color in with colored pencils. I don't usually (ever) write or draw in my books, so again, this book inspired me to go outside of the box (or book in this case) and do something different. I also enjoyed reading about the mythology, rituals, and the basics of planning and caring for a garden.
Monaghan is able to connect the gardener's spirit with the spirit of the garden in an amazing way. No two gardens are exactly alike, so I'll be coming up with some of my own ideas on my little garden in the near future. This book serves as a tremendous amount of inspiration and is beautifully written.
For further reading, or perhaps use as an intro to invite you into reading this book, check out the author's article "
Inviting Fairies Into Your Garden
" found on the Llewellyn website.
* Thank you to the publisher of Magical Gardens, Llewellyn, for providing me with a copy of this book for review. All opinions expressed are my own.