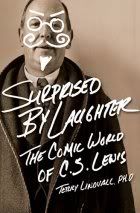 Surprised by Laughter: The Comic World of C.S. Lewis
by Terry Lindvall is a look at the writings of C.S. Lewis with a comedic twist. The author had a contagious sense of humor, and this book brings his comedic views back to life with renewed passion.
Book Description
"
Surprised by Laughter
looks at the career and writings of C. S. Lewis and discovers a man whose life and beliefs were sustained by joy and humor.
All of his life, C. S. Lewis possessed a spirit of individuality. An atheist from childhood, he became a Christian as an adult and eventually knew international acclaim as a respected theologian. He was known worldwide for his works of fiction, especially the Chronicles of Narnia; and for his books on life and faith, including Mere Christianity, A Grief Observed, and Surprised by Joy. But perhaps the most visible difference in his life was his abiding sense of humor. It was through this humor that he often reached his readers and listeners, allowing him to effectively touch so many lives.
Terry Lindvall takes an in-depth look at Lewis's joyful approach toward living, dividing his study of C. S. Lewis's wit into the four origins of laughter in Uncle Screwtape's eleventh letter to a junior devil in Lewis's The Screwtape Letters: joy, fun, the joke proper, and flippancy. Lindvall writes, "One bright and compelling feature we can see, sparking in his sunlight and dancing in his moonlight, is laughter. Yet it is not too large to see at once because it inhabited all Lewis was and did."
Surprised by Laughter reveals a Lewis who enjoyed the gift of laughter, and who willingly shared that gift with others in order to spread his faith." – Surprised by Laughter
My Thoughts
Surprised by Laughter
is a bit slow and rather dry starting out. However, it does improve (which is a good thing considering it is a very lengthy book). The author takes a look at C.S. Lewis's work and discusses it in an intellectual way that is also quite humorous, which is perhaps just how Lewis would have wanted.
It is a long book, coming in at 454 pages (not including the index and notes section), and will take a while to read though. However, fans of Lewis should have no problem doing so at their own pace. If you are a new reader to Lewis, I would suggest saving this book to read after reading some of his more famous works. This isn't a requirement, but would definitely help in the enjoyment of reading
Surprised by Laughter
.
I recommend this book for everyone who enjoys C.S. Lewis's body of work. Do keep in mind that this is a more scholarly look at the author and his writings, and not necessarily a book to read while lounging by the pool (unless of course, this is your kind of leisurely reading).
* Thank you to the publisher of Surprised by Laughter, Thomas Nelson, for providing me with a copy of this book for review as part of their Book Sneeze program. All opinions expressed are my own.