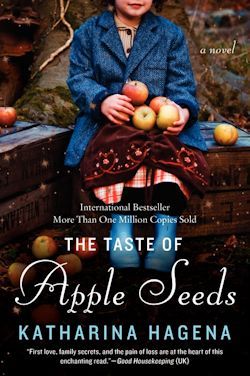 Book Description
"
When Iris unexpectedly inherits her grandmother's house in the country, she also inherits the painful memories that live there. Iris gives herself a one-week stay at the old house, after which she'll make a decision: keep it or sell it. The choice is not so simple, though, for her grandmother's cottage is an enchanting place, where currant jam tastes of tears, sparks fly from fingertips, love's embrace makes apple trees blossom, and the darkest family secrets never stay buried.
" –
The Taste of Apple Seeds
My Thoughts
The Taste of Apple Seeds is a wonderfully descriptive book about family, secrets, love, and the spirit which binds it all together. The author is excellent at setting the stage and describing the scenes, but that is really the best part of it all, at least for me.
I was excited to read this book because it seemed like it would be such a good story. However, after about halfway through, I was still mildly bored with what was going on. Nothing that happened was really a shocker, and the main character, Iris was uninteresting. I couldn't get involved in the book or cheer on the characters.
* Thank you to the publisher of The Taste of Apple Seeds, William Morrow, for providing me with a copy of this book for review. All opinions expressed are my own.