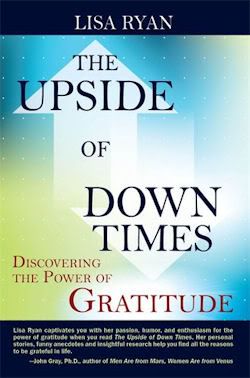 The Upside of Down Times by Lisa Ryan is a book about gratitude that explains how being positive, appreciating people more, and just being grateful for things in your life can make a big change. With how things are going in the world today, this is a book that could make a huge difference in so many people's lives.
Book Description
"
One of the downsides of life is that we rarely have to deal with an overabundance of gratitude. Most of us tend to focus on the negative. We don't receive nearly as much acknowledgment as we would like, and we don't give as much recognition as others deserve. Now for the upside! When we learn to harness the power of gratefulness, we can make a major positive difference in so many areas of our lives, as well as the lives of those around us—and

The Upside of Down Times

is your first step toward making that happen.
" –
The Upside of Down Times
My Thoughts
This book reminded me that just having good manners and saying "Thanks" isn't enough to be truly grateful. I also was reminded that when I do something for someone to say "Thank You" to me, I should say "You're Welcome" and not "No problem" or "It was nothing."
I consider myself to be a positive person, but there are times when it is hard to stay that way all day. Lisa Ryan did an excellent job reminding me that even that extra smile or waiting to hold the door open for someone is a little thing that could change the attitude of that other person's day, and also help to uplift my day, too. Smiles are contagious.
There are many personal experiences in the book for us to read, and also places where we can journal places of gratitude for our own progression with being grateful. I especially liked how the author told the story about her own journaling experience with fancy journals, and how she just uses binders with loose-leaf paper now.
The Upside of Down Times is a book that I am grateful to have read. I enjoy reading and am so appreciative and grateful to be a book reviewer. This is a book that I highly recommend to everyone to read – it might just be the pick-up you need to change your outlook on life and make those big changes for the better.
* Thank you to the author of The Upside of Down Times, Lisa Ryan, for providing me with a copy of this book for review. All opinions expressed are my own.