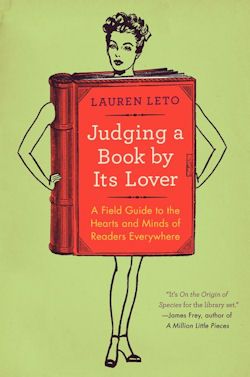 Judging a Book by Its Lover
by Lauren Leto is the absolute perfect book for a book lover to read, laugh with, and give to other book lovers. Leto writes like she is your best friend, and this book is just something you two are privately discussing, over wine, to mock other people with. Book snobs will likely frown at it, but true book lovers will laugh along with it, even if your favorite book or author is slammed.
Book Description
"
Want to impress the hot stranger at the bar who asks for your take on
Infinite Jest
? Dying to shut up the blowhard in front of you who's pontificating on Cormac McCarthy's "recurring road narratives"? Having difficulty keeping Francine Prose and Annie Proulx straight?
For all those overwhelmed readers who need to get a firm grip on the relentless onslaught of must-read books to stay on top of the inevitable conversations that swirl around them, Lauren Leto's
Judging a Book by Its Lover
is manna from literary heaven! A hilarious send-up of—and inspired homage to—the passionate and peculiar world of book culture, this guide to literary debate leaves no reader or author unscathed, at once adoring and skewering everyone from Jonathan Franzen to Ayn Rand to Dostoyevsky and the people who read them.
" –
Judging a Book by Its Lover
My Thoughts
Judging a Book by Its Lover is a fun, witty read about books, authors, and the people who put them on their bookshelf. As someone who has four bookshelves (with highly contrasting books on each one), reads for hours every day, and finished the Twilight series in a weekend, I'd consider myself a lover of books. Even though I didn't read every book that is mentioned in this book, I found many of the ones I have read in it, or know of the author, and found Leto's witty take on it hilarious.
I love this book and author's writing for many reasons. Here are a few of the top ones for me. She love Harry Potter and thinks J.K. Rowling fans are "smart geeks." She hates the term "bookworm" and thinks it should be changed to "bookcats." She also loves real books over e-books, and continues to give books as gifts, even though she knows not everyone will read them. She is witty and can sum up a book or author quickly, so it is easy for us to now fake having read some "classics" we never really wanted to read anyways.
I highly recommend this book for all book lovers. If you are a book lover, get it. If you know a book lover, buy it for them. Trust me, they'll thank you for it.
* Thank you to the publisher of Judging a Book by Its Lover, Harper Perennial, for providing me with a copy of this book for review. All opinions expressed are my own.