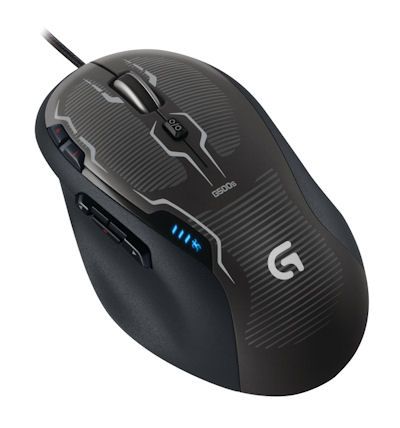 Everyone plays games differently, but one thing that just about all types of PC gaming requires is a great mouse. When laser precision, speed, comfort, and a dry grip are important, the new "Logitech G500s Laser Gaming Mouse" is the one to turn to.
Logitech G500s Laser Gaming Mouse Features
"Weight and Balance Tuning – Everyone plays differently.

Tune G500s to your unique playstyle. Change its overall weight. Adjust its center of gravity. Rearrange the placements of two different size weights; you can adjust for feel and performance with up to 27 grams of extra weight.
Dual-Mode Scroll Wheel
-
Unlike standard scroll wheels, G500s features hyper-fast, dual-mode scrolling. When gaming, quickly and accurately select menu options with click-to-click precision. Or, zip through Web pages with a quick flick of the free-spinning hyper-fast scroll wheel.
Advanced Surface Materials
-
We used infrared imaging to determine strategic tactile zones where the hand meets the mouse surface. We applied advanced materials to each zone for improved comfort and durability. The hydrophobic coating on the palm area helps prevent your hand from sticking. For heavy contact zones, we added a fingerprint-resistant coating to the primary buttons. And, dry grip on the sides ensures a steady hand.
In-Game Sensitivity Switching
-
Make the right moves in any game situation. Shift through up to 10 DPI settings, from pixel-precise targeting (400 DPI) to lightning-fast maneuvers (up to 4000 DPI) with two buttons sitting in easy reach under your thumb.
10 Programmable Controls
-
Achieve great results with the default configuration straight out of the box. Or, set up one-button triggers for actions that typically require digging into menus. Put push-to-talk communications in easier reach. Temporarily down-shift DPI. Reassign any game command or multi-command macro to any one of 10 programmable buttons with optional
Logitech Gaming Software (LGS)
.
Onboard Memory Profile
-
Configure your mouse once and have it remember. Every game requires its own unique setup, be it World of Tanks or League of Legends. Program all 10 buttons across so you can bring your setup to other PCs.
Ultra-Durable Build
- Gaming conditions torture typical mice. G500s is designed to endure. Upgraded primary mechanical microswitches are rated to a 20 million-click lifespan. Low-friction polytetrafluoroethylene feet are tested to last an amazing 250 km. Whatever you can dish out, G500s will stand up to it.
Braided USB Cable
- With a cloth wrapped, durable 2 m (6.5 ft) USB cord, your mouse comes with a hook-and-loop cable to keep things tidy and ready to play.
1 Millisecond Report Rate
– Be confident your every command is executed as quickly as possible. Up to eight times faster than a standard USB mouse, G500s captures your moves as fast as you can make them.
Gaming-Grade Laser
- When the difference between MVP and also-ran is measured in pixels, laser sharp sensitivity pays off. G500s uses a gaming-grade laser that delivers precision at any hand speed and works across a wide range of surfaces to register even the most subtle hand movements.
Slick Feet
- Low-friction polytetrafluoroethylene feet reduce drag for faster motions, smoother cursor movements, and improved accuracy.
Easy to Use Setup Software
-
Use the optional Logitech Gaming Software to perfectly match its commands to your favorite games. Simple drag-and-drop settings allow you to customize button and tracking profiles for any game you play. Or, use pre-configured customizations with automatic game detection.
" –
Logitech G500s Laser Gaming Mouse
Let me start off by saying that I am a female gamer that loves gadgets, and I use and abuse my equipment when playing MMOs. I really put my gaming gear through the tests. I play for long hours, go into PvP areas, high-end dungeons, and areas that are not for casual players. I need precision, comfort, and durability in the gaming accessories I use because I don't see the point of playing with anything less than that. If you are a serious gamer, I'm sure you agree, too.
The "Logitech G500s Laser Gaming Mouse" is an upgrade from the Logitech Gaming Mouse G500. It is similar, but has some important features that make it worthy of an upgrade. For instance, the advanced surface materials allow you to easily grip the mouse, and the hydrophobic coating prevents your hand from sticking. Put simply, your hand won't get all sweaty on the mouse and cause you to over jump or do something else leading to a catastrophe when playing. This is my favorite feature on the mouse because while it won't prevent you from sweating, it does make it less of an issue, at least for me.
The option of using the wheel in two different settings is also very nice. It can be super-fast, or slower for a click through option, which for some games and instances, is also very nice. For just doing normal things on a computer, such as browsing the web, the super-fast speed on the wheel is superb.
I like my mouse light, so I am not one to use the extra weights for the mouse. However, if that is something you need for your gaming style, this model comes with an extra 27 grams of weight to help adjust it to suit your needs.
This mouse is also nicely designed. It is comfortable to hold, and fits my hand perfectly. As a female gamer, sometimes the mice out there just look way too large for my hand. This one is seriously a perfect fit. It is also a good looking mouse. It has interesting features on the outside of it that makes it look like serious gaming gear. The DPI setting is also shown on the mouse with the blue lighting, which I think looks great with this line of products.
Overall, I really like this mouse. It works for everything I need it to, and fits my hand and playstyle perfectly. If you are looking for a new gaming mouse, this is definitely one that you want to check out.
Disclosure: Thank you to
Logitech
for providing me with the product for review. All opinions, experiences, and thoughts about the product being reviewed are my own.