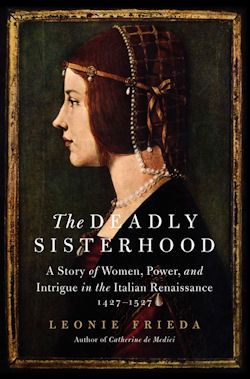 The Deadly Sisterhood by Leonie Frieda is a look at eight fiercely fascinating women in history. Medieval women are much more interesting than you may have thought, and this book is just the step into history to see how much so.
Book Description
"
In an epic drama of love, death, and betrayal, Leonie Frieda charts the rise and fall of the Italian Renaissance through the lives of the princesses who helped shape it.
Mothers of popes and wives of princes, the women who feature in
The Deadly Sisterhood
were joined by birth, marriage, or friendship, and all ruled for a time in the place of their dead or absent menfolk. An intricate network of blood ties bound them together even as passion, treachery, and greed set sister against sister. These were women who were not afraid to wield the sword against their enemies in the murderous struggles that dominated the Italian Peninsula in the fifteenth century. Each experienced great riches, power, and the warm smile of fortune, but each also knew banishment, imprisonment, poverty, attempts on her life, and the loss of a husband or child.
Leonie Frieda brilliantly reassesses the reputations of celebrated figures such as Isabella d'Este and Lucrezia Borgia, while exposing the influence of neglected characters such as Isabella d'Aragona and Clarice Orsini on the brutal dynastic conflicts of the fifteenth century.
From sleeping with the enemy to leading troops into battle,
The Deadly Sisterhood
explodes the myth that Renaissance women were passive bystanders. Far from being confined to patronage and piety, these women proved that as rulers, politicians, warriors, and lovers they equaled—if not overshadowed—the men whose power they shared.
" –
The Deadly Sisterhood
My Thoughts
The Deadly Sisterhood is a well-researched and written book about some very interesting women in history. Each of the eight women featured have their strengths and weaknesses that as a woman, I was able to relate with (even if only in a very small way). Women's roles were a lot different back then, but if you thought that the women in history were all just submissive and fragile people, you are quite wrong! These women were strong, powerful and very intelligent.
If you have an interest in history, in particular women's history, this is a book that you seriously need to read. It will give you a different perspective of a woman's role in medieval times, and perhaps appreciate everything that we have gained since then.
* Thank you to the publisher of The Deadly Sisterhood, Harper, for providing me with a copy of this book for review. All opinions expressed are my own.