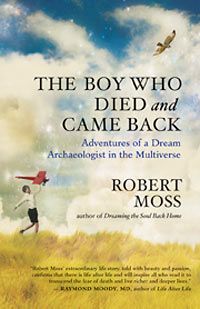 The Boy Who Died and Came Back
by Robert Moss takes the reader on a journey that blasts through the normal sense of reality, and goes across different dimensions of the multiverse. Truly a remarkable read that I couldn't put down!
Book Description
"
Join Robert Moss for an unforgettable journey that will expand your sense of reality and confirm that there is life beyond death and in other dimensions of the multiverse. Moss describes how he lived a whole life in another world when he died at age nine in a Melbourne hospital and how he died and came back again, in another sense, in a crisis of spiritual emergence during midlife. As he shares his adventures in walking between the worlds, we begin to understand that all times — past, future, and parallel — may be accessible
now
. Moss presents nine keys for living consciously at the center of the multidimensional universe, embracing synchronicity, entertaining our creative spirits, and communicating with a higher Self.
"
–
The Boy Who Died and Came Back
My Thoughts
The Boy Who Died and Came Back is the story of Robert Moss and his experiences during his near death experiences. Having traveled the realms of other areas from a very young age, when he had his first experience with dying and coming back, Moss is an excellent resource for reading more about such experiences.
I can't give a review of this book the justice it is due because I haven't experienced these realms. However, reading this book about the author's experiences is the next best thing, and one which I highly encourage everyone to read. This is a brilliant read that I definitely recommend to everyone in this realm and beyond.
* Thank you to the publisher of The Boy Who Died and Came Back, New World Library for providing me with a copy of this book for review. All opinions expressed are my own.