Looking for a fairy fun kit that is perfect for girls of all ages? The
Fairies Fun Kit
from Dover is just what you're looking for. Fairies are fun and really make most girls and women smile.
This Fairies kit includes 2 coloring books, including a "stained glass" edition (which if hung in a window is amazing)! It also has 2 sticker paper dolls with beautiful costumes, 6 glitter tattoos, 52 stickers and glow in the dark poster of an enchanting fairy.
You can color these in with various mediums or even scan them on the computer to reuse again and again. This is what I did with one from the stained glass book after I scanned it on the computer and colored in digitally: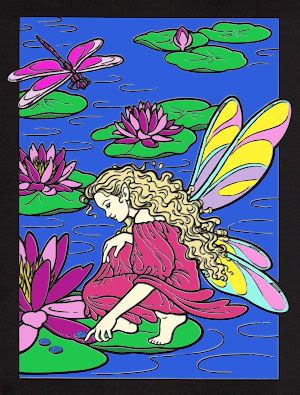 Coloring in fairies is fun and actually helps me ease stress from a long day. If you haven't colored for a long time, give it a try (if not with this set, then pick out another, Dover has a huge variety to choose from).
The paper dolls in this set are so cute! It really brought me back to days when I was a kid and played with paper dolls. That is how I learned to "draw." Of course, they weren't the best drawings, but it was fun.
Even if you don't collect fairies, this is a present that would be great for someone in your life – a daughter, niece, granddaughter, cousin, friend, etc. I highly recommend it for everyone who wants to add in some fairy coloring to their life!
If you like free samples, then
sign up
to get new ones each week from Dover!
Thank you to Dover Publishing for providing me with this set for review. All opinions expressed are my own.