The Sims 3: Fast Lane Stuff
package is a new package of items that revolves around cars. It doesn't just add new cars though, it also has new clothing and décor – and the ability to even name your car!
About the Game
Shift gears and take your Sims for a spin with
The Sims 3 Fast Lane Stuff
. For the first time ever in a stuff pack, your Sims can get new cars along with furnishings, décor, and apparel in four distinct vehicle-themed lifestyles. Will your Sims embody the speed demon way of life? Or cruise in classic luxury automobiles with the top down? Will they rebel against the establishment in pin-up girl dresses and rockabilly tough guy attire? Or pursue a life of intrigue with spy-themed, sexy apparel and automobiles? Whatever their lifestyle, The Sims 3 Fast Lane Stuff takes your Sims on the rides of their lives!
FEATURES
• Give your Sims the rides they've always dreamed of—and the lifestyles that go with them.
• Enjoy four all-new styles of fashions, furnishings, and vehicles: Racing, Intrigue, Rockabilly, and Classic Luxury.
• Create the ultimate garage to house your Sim's professional race car or hot rod.
• Deck out your Sim's house in luxurious accessories to match their sleek new, luxurious rides.
My Thoughts
The Sims 3: Fast Lane Stuff
package is a new fun set of items that revolves around cars. Sure, some may think the cars available already would be just fine and they may not need this package. That may be true, but the cars added into this stuff package are (in my opinion) much better and really goes with the many different types of Sims there are.
I started browsing cars before buying one, and I ended up buying this Racing car and a few others just to mess around with. I have my Robert Pattinson Sim dressed up in his racing gear and driving around in this new vehicle: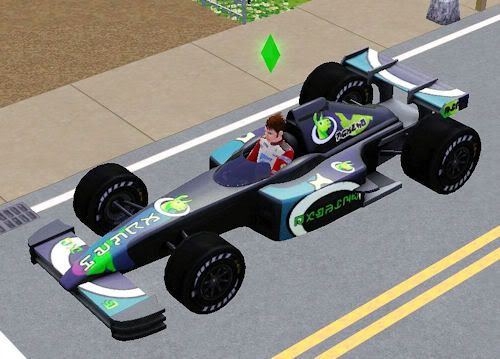 The new styles added with this pack are the Racing, Intrigue, Rockabilly, and Classic Luxury. With each theme new décor and clothes were added. My favorite part was of course, the clothes! I tried my Sims out in many new clothing options, but my favorite was this cute Retro style dress from the Rockabilly theme.
Overall, I think this stuff package is well worth the money. It adds enough new content to be worth it price-wise versus the items available in The Sims 3 Store online. I recommend it to all those that play
The Sims 3
!
Don't just take my word for it though, check out this Sims 3 Fast Lane Stuff trailer:
* Note that you must have The Sims 3 base game already installed on your computer in order to play this.
* Thank you to the publisher of The Sims 3: Fast Lane Stuff, Electronic Arts, and Gamers Gate for providing me a digital copy of this game and allowing me to review it. All experiences and opinions expressed are my own.