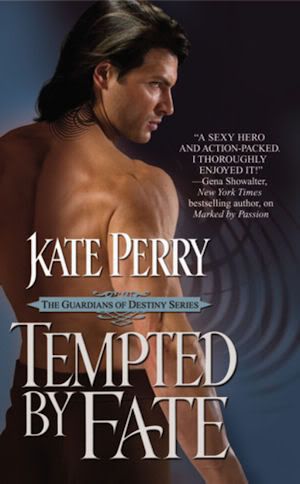 Paranormal romance is perhaps one of my favorite genres. Usually I go for the vampires, but this time I decided to try out
Tempted By Fate
by Kate Perry. This book is part of The Guardians of Destiny Series, but if you haven't read any before this, that is okay (I hadn't either).
Book Description
"Willow Tarata is a Guardian who trusts no one. She hunts those who prey on the vulnerable. And she's driven by a vengeful goal-find the man who murdered her mother. Yet suddenly Willow's quarry now has her on the run . . . straight into the sights of San Francisco's most dangerous detective.

Three bizarre murders have Inspector Rick Ramirez baffled-and determined to uncover the truth. But to catch the real killer, he needs the help of his prime suspect, Willow Tarata, even though this fierce and sexy blonde is challenging his professional cool. And now, unless they believe in each other and trust their deepest instincts, a relentless evil will end both Willow's and Rick's life-and claim this Guardian's extraordinary powers forever . . ."
-
Tempted By Fate
My Thoughts
Willow Tarata is really a sexy heroine character that is loveable and misunderstood by others (except those that are the closest to her). She is a Guardian of the Wood scroll and is in search of "The Bad Man" that killed her mother when she was ten. Seeking revenge and living in a life of anger set her in the direction of being an assassin (hey, she has superpowers and needs money). Even this part of her life isn't really "bad" but not everyone sees in the shades of gray, like she finds out. For some, it is hard.
Inspector Rick Ramirez finds it extremely difficult to see things that aren't black or white. He however does become extremely attracted to and passionate about Willow. How they ended up going from murder suspect to getting hot and heavy you will have to read to find out for yourself. What happens in the end isn't necessarily a surprise, but it is a page turner and will keep you up late reading to find out what happens at the end.
If you like paranormal romance, romance, or paranormal in general, you will like this book. I recommend it to all who enjoy such books.
Thank you to the publisher of Tempted By Fate, Forever, part of the Hachette Book Group, for providing me with a copy for review. All opinions expressed are my own.