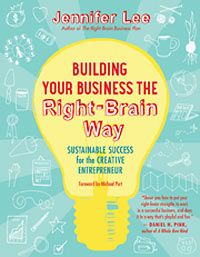 Building Your Business the Right-Brain Way
by Jennifer Lee is a solid book to help more creative types (or right-brained people) build their business. Lee includes valuable resources and tips on succeeding, and coaches you through the exercises to help you along the way. If you have big goals or little goals, this is definitely a book you should read!
Book Description
"I
f you've started a business, you know that the journey toward success can be both invigorating and confusing, so where can you find advice that is practical and focused but still as playful and passionate as you are? Look no further than this book, which combines solid business expertise with a right-brain perspective that inspires creativity and innovation. Jennifer Lee's fresh, empowering approach emphasizes taking action and continually improving to achieve extraordinary long-term results.
Building Your Business the Right-Brain Way
offers real-world-tested techniques that can benefit all sorts of businesses, whether you're a sole proprietor running a coaching practice, a crafter looking to license products, a wellness professional with a team of employees, or any creative soul making a meaningful difference with your work. You'll discover how to:
• assess your business's unique "ecosystem"
• build your brand and attract, engage, and keep ideal customers
• develop new income streams that better leverage your time and resources
• promote your products and services with authenticity and ease
• grow your team (virtual and in-person) and manage staff and vendors
• establish infrastructure and procedures to keep operations running smoothly
• carve out vital white space to pause, reflect, and celebrate
Includes play sheets and color illustrations to inspire action and propel your success
" –
Building Your Business the Right-Brain Way
My Thoughts
Building Your Business the Right-Brain Way is a fun, colorful, and engaging book to read about business. It doesn't seem like those words should be used in the same sentence, but it works with Lee's book!
The format of the book works in an organized, practical way to help people who are more creative than set on working with excel sheets about money and their business plan. Of course a business should be taken seriously, but who says you can't also have fun while being successful with it? Jennifer Lee proves that you can do both, and I adore her for it!
The book has four parts: The Lay of the Land, Setting the Stage for Yourself and Your Right Peeps, Getting Down to Business, and Sustaining Your Success. You don't even have to read them in order. If you want to though, you can! That is the beauty of her book, you can use what is relevant to you, and skip over the rest.
Throughout the book, you'll also find: Right-Brain Reflections, Illustrated Play Sheets, Exercises, Right-Brain Entrepreneur Spotlights, Tips, Action Accelerators, and Left-Brain Checklists. All of these are helpful, especially the calls to action to get you moving in the right direction!
Overall, I think that this is an invaluable tool for right-brained business people. It can help tremendously, and therefore, I highly recommend it.
* Thank you to the publisher of Building Your Business the Right-Brain Way, New World Library, for providing me with a copy of this book for review. All opinions expressed are my own.