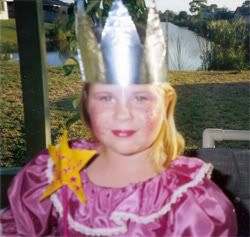 In the spirit of it being the Eve of Halloween, today's Flashback Friday will be short and sweet featuring a few fun Halloween pictures of yours truly.
This was me on Halloween in 1990 before I went trick-or-treating around the neighborhood I lived in. I was a Fairy Godmother and pretty darn cute if I must say. I don't remember how much candy I took home or what my friends dressed up as that year, but I am positive I had a fun Halloween (I almost always do).
I loved this costume because I also wore the pink dress when I was a flower girl in a cousin's wedding. I was an eco-friendly and fairy loving kid even then!
Even though I didn't post this early today, I hope that those that do see this will join in the fun and post a picture or two of them from Halloween's Past to share with all of us. If you do please comment so I will be sure to not miss it!
I hope everyone has a fun and safe Halloween tomorrow!
XOXO
Sheri - Your Fairy Godmother
P.S. – Don't forget to enter my
giveaway from PinkTogether!