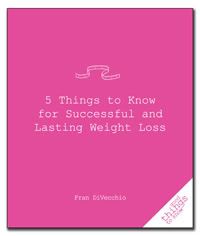 Losing 100 pounds is not an easy feat by any means, and doing so naturally, like the author of this book, Fran DiVecchio did is even more uncommon.
5 Things to Know for Successful and Lasting Weight Loss
is a success story of the author's own tips and stories of how she lost the weight – and kept it off for 12 years!
Fran writes this book in an easy to follow way which really keeps the reader engaged and wanting to know more – not just about her tips for success but also her personal story on how she reached her goal.
The 5 tips used in this book may seem simple, but really doing them isn't. For instance, DiVecchio makes the reader understand the differences between simply wishing or desiring for something and setting up a goal – and sticking to it, like an Olympian athlete would.
The author also mentions that she didn't start exercising in extreme measures – she simply started exercising by walking. I really like this tip because not everyone can afford a gym membership right away, and walking is a fantastic exercise – especially for beginners.
At the back of the book, there are also fantastic recipes that the author shares with all of us to help make our weight loss journey taste just a little better. I made "Nancy's Frittata" and "Choffee" and it was absolutely delicious!
I highly recommend this book to those who are looking for inspiration on their weight loss journey.
5 Things to Know for Successful and Lasting Weight Loss
is very easy to read, shares great things to know for lasting weight loss, and gives hope and inspiration to everyone who needs it – whether you want to lose 10 or 100+ pounds.
This book is part of Turner Publishing's
Good Things to Know
series which "focuses on simple, pragmatic actions that can have a strong and lasting impact in the lives of readers." – Turner Publishing.
* Thank you to the publisher of
5 Things to Know for Successful and Lasting Weight Loss
,
Turner Publishing
for providing me with a review copy of this book.