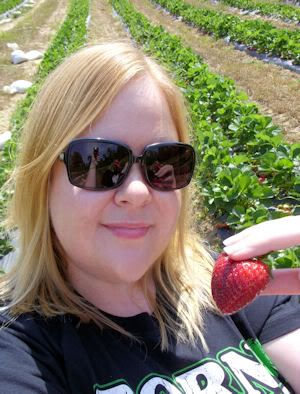 Earth Day is a great holiday to go out and do something special for the environment, or perhaps do something new and green you haven't done before.
This year, I picked strawberries from a local farm near where I live. I can honestly say that I have never picked any kind of fruit or vegetable from a farm before, so definitely a new experience for me!
I usually do Earth Day things with my Mom, so she was with me too. We had fun going through the strawberry fields and picking out the reddest, juiciest, freshest strawberries I've ever had. They let us sample some while we picked them too, which really makes for the freshest strawberries around!
Oh, I got a new haircut yesterday too, you like? 14 inches were cut off! Crazy huh?
Here is the same image, but making the strawberry really pop out with the help of photo effects. Which do you like more?
Here is a picture of the strawberry portion of the farm we went to:
What did you do for Earth Day? If you couldn't do anything today, do you plan to soon? Have a favorite Earth Day memory you'd like to share too? I'd love to hear about it!