I've generally stayed away from writing too many things about my personal life on my Blog. I don't use Twitter or Facebook to post things about my life constantly, and I don't really want to. I have mainly only mentioned small things about myself in "personal" posts because I'm quite honestly a private person.
Since the beginning of last month, pretty much after my family just got back home from our Christmas vacation, one of my brothers went to the hospital.
Carey is a "half-brother" of mine, the oldest out of us, but at only 43 years young. As a note, I never mention the "half" towards any of my siblings in normal conversation, only to explain because I didn't grow up near them. We're not half people. Though, perhaps they may not feel that way, as I'm not a "whole sibling" to anyone. I've always wanted to be.
As I said, I'm not one to give big details on my personal life, so I won't share what he went through, but, my brother Carey went to the hospital, and after a long fight, he didn't make it. The services took place about two weeks ago, and everyone that was even a small part of his life will greatly miss him. He was a fun guy to be around, a great big brother, father, husband, son, friend, cop, etc.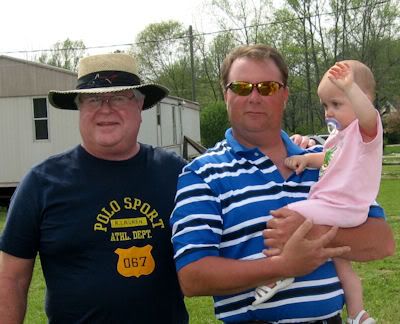 L-R: Dad, Carey, and his granddaughter

We will love you forever and miss you greatly!