Harry Potter is still a very popular book and movie series. However, this flashback is focusing on how far the actors have come since Harry Potter and the Sorcerer's Stone.
I didn't get into the whole Harry Potter whirlwind until a few years ago. I caught one of the movies on HBO or Disney and I've been hooked ever since. I bought the movies on DVD and read all of the books (which you may already know if you read some previous posts).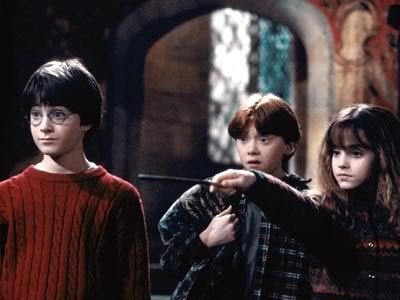 Harry Potter (Daniel Radclife), Ronald Weasley (Rupert Grint) and Hermoine Granger (Emma Watson) are the main characters. They started filming the movies when they were all around 10 years old and hadn't been in much acting before being cast for their superstar roles in Harry Potter.
I think they did quite well in the first few movies acting wise. Sure they weren't the best but they were kids! Remember this trailer from the fist movie? I don't honestly because I wasn't interested in the series when it came out (I'm a horrible awful person I know).
I find it simply amazing that they went from that to where they are now as actors. I've seen many of the Harry Potter actors in other movies since – Daniel Radcliffe, Emma Watson and Robert Pattinson (yum!). Who would have thought Rob would have become a vampire heartthrob sensation in Twilight? Or would have thought Daniel would have nude scenes on Broadway in Equus?
I'm really excited to see the new movie coming out next week Harry Potter and the Half Blood Prince. I expect they are going to be even better actors than the previous movies and the graphics will of course be better too (because they just keep getting better in each movie).
Are you guys excited too?
Now I leave you with a very noticeable change: how they look at events then compared to now.