I'm back and feeling better. As I stated in a previous post, Robyn was supposed to come visit but she missed her flight – by 12 hrs! Honestly, I think she is the blonde one sometimes. LoL So, she is maybe coming at the end of the week. We'll see.
I had a fun 4th of July weekend. I didn't take pictures though, so not too much to show there. However, guess who was promoted? Me! I'm now a "Team Manager" in
G.H.O.U.L.
(Ghost Hunters of Uncommon Leagues). Pretty cool huh?
Today one of my early birthday presents arrived from Overstock.com (LOVE that store). It is the
Havanah Print 310 Thread Count Regency Duvet Cover Set
. I've been needing a new one for awhile now since the comforter that was on it needs to be stitched up in a few spots and dry-cleaned. I still like my old one, but this new one is great! When I opened it up I loved the feel of the fabric and the print is really pretty – and it is reversible! Here it is on my bed…
Star went to the groomer today and had a checkup. She is getting old, so I am really thankful that nothing is wrong with her. She just needs a teeth cleaning again. She will not be going on my new duvet cover set though. No pet dander allowed on this one! She is a cutie though huh? She looks like she lost 5 lbs from the haircut – too bad that effect doesn't work on us mere humans.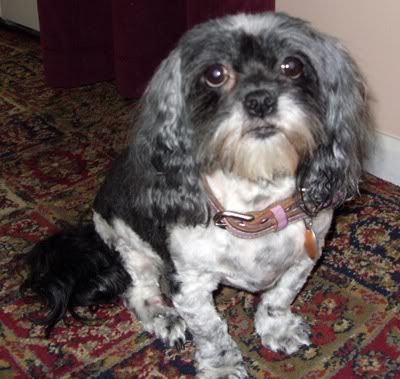 Here are some of the flowers that survived the heat so far that I planted.
Here is my Mom's orchid that hasn't bloomed since we bought it over 2 years ago. It is finally blooming again, so I had to post a picture of it!
Today I did watch Michael Jackson's memorial service that was on live for 3 hours. It was a very good remembrance to him and I am glad that it was aired on TV for all of his fans to watch. I didn't cry until the end when his daughter Paris talked briefly stating her dad was the best dad and she loved him. I'm sure that made a lot of people all over the world cry too.
I'll try to catch up on everyone's posts but that is quite a lot for me to go through, so I am sorry if I don't make it to all of yours.