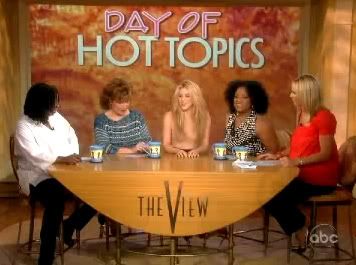 Did anybody else catch Shakira on
The View
today? If you missed it, which in all honesty most probably did you can view it here:
Okay, so now that you have seen it too I can discuss what I've been wondering since I saw that.
If you didn't catch it at the beginning – today was "Day of Hot Topics." Meaning they generally do not have guests on the show and they discuss "Hot Topics" like Sarah Palin resigning as governor of Alaska, Bristol Palin's baby daddy saying Sarah Palin couldn't handle being President if she resigned, what will happen to Michael Jackson's kids, etc.
Shakira comes out as the surprise musical guest and sits down by the ladies. If her very noticeable roots weren't enough to distract you, you soon come to realize that she is just promoting her new single "She Wolf" and soon-to-be CD. She wasn't even there to sing! What kind of a musical guest is that?
The hosts seem all happy that she is there and act like they really love her and her music. Do they? I don't know but it seemed a bit too over the top to be real if you ask me. It also seemed… rehearsed. Again, I do not know if it was – it just seemed so to me. Maybe her record label paid ABC to have her on the show for this special bit of promotion?
They do however have the song up for free at ABC.com if you want to download it. I admit, I did. I like free music. The song has a disco feel to it? I'm really not sure what to think of it yet. I'll probably really like it if I hear it enough in the car, much like "Hips Don't Lie."
So, what do you think of
The View
appearance? The song? Shakira in general?