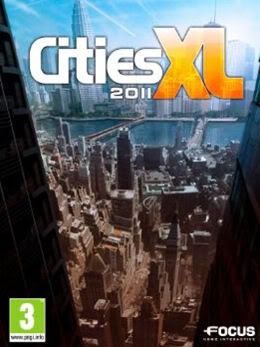 Cities XL 2011
is a new simulation city building game. In this PC game you are the mayor of a city and create it from the ground up. You can also link your cities together to create a global economy, so really it is like you are ruler of the whole world.
This visually stunning world is yours for the taking, care to create your own?
Game Description
Imagine and Conceive cities of all types and sizes on Cities XL planet. From a several million citizens megalopolis to a hyped seaside resort, to an industrial city, everything is allowed!
Take advantage of an incredible collection of more than 700 buildings and structures, 47 different types of maps featuring realistic environments. Enjoy never seen before freedom in a city-builder!
As a virtual mayor, find the right balance between economic development of your cities, attractiveness, transportation (road traffic, bus, metro…), pollution, social services, taxes and even leisure activities.
For the first time in this kind of game, you go beyond the simple creation of a city! Connect every city that you build in a trade network, specialize some of them so that they can provide for others, thus creating a large-scale economy balance.
Key features
• More than 700 buildings, structures and monuments inspired by various architectural styles.
• 47 incredibly detailed and diverse 3D maps: mountains, hills, canyons, islands, cliffs, as well as famous places: Hollywood, Manhattan, Paris, Hong Kong, the Krakatoa volcano…
• Connect cities that you build in a trade network, specialize some of them so that they can provide for others, and create a large-scale economy balance!
• A sophisticated public transportation system: manage in detail the road network, as well as bus lines, and the underground and elevated railway.
• Take profiles of your citizens into account to provide the services and the entertainment they need.
• A self-sufficient global economy, controlled by price variation and by citizen's needs in the game.
• An all new tax management system allows you to refine the city's administration.
• A very high quality graphic engine which provides nearly photorealistic visuals.
Cities XL 2011 Official Trailer
My Thoughts
Looks amazing, right? The graphics are fantastic, especially when viewing your cities up close. The detail that is going on is really fun to watch, and you can spot funny things happening like a man dancing on a car to everyday things like people walking, driving, and having fun around their city.
Cities XL 2011
brings you the best detail to a simulation city available to date.
The different settings and zones/terrains that you are able to build on really impressed me. My favorites were the beachside zones and the ones with the Asian theme. Very beautiful cities!
My laptop isn't the highest quality gaming computer out there - in fact it isn't even a "gaming computer." Yet, I was able to run this game smoothly with no lagging or having to compromise the graphics. I was highly impressed by this factor, especially since my computer is below their minimum requirements.
The controls in the game were pretty simple and easy to get used to playing with. I also like the fact that there were different playing levels of difficulty.
Overall, I really had a good time playing this game. I highly recommend it to everyone who likes simulation city building games. This would also make for a great PC game gift for the holidays!
System Requirements
• OS: Windows XP SP3 / Windows Vista SP1 / Windows 7
• Processor: Intel core 2 duo or higher - 2.5 GHz and AMD equivalent, or higher
• RAM: 1GB (XP) / 1.5 GB (Vista)
• Hard Drive: 8GB
Video Card: nVidia GeForce 8800 / ATI Radeon HD 3850 or higher, 512MB, DirectX 9.0c
* Thank you to the manufacturer of this game for providing me with an electronic version of this game for review purposes. All opinions and experiences are my own.