The Sims 3
is perhaps my favorite game of all time. It has taken the best aspects of prior
Sims
games and made it more visually stunning and more entertaining.
One of the biggest things I have been waiting for is the addition of vampires. My love of vampires comes as no shocker to anyone that reads this Blog every now and then. True Blood vampires, Twilight vampires, basically any vampires I love. If you love vampires too, trust me
The Sims 3: Late Night
expansion pack is worth purchasing.
Game Info:
Get your Sims an all‐access pass to the hottest spots in town. Whether they mingle with celebrities or enjoy a casual night with friends, your Sims' social lives are getting a boost! But keep in mind that some scenes are more exclusive than others, so make sure your Sims have the right connections to get past the bouncers at the hottest clubs. Wherever your Sims go, they'll discover new things to become—adored celebrities, all‐night partiers, rowdy bandmates, or sexy vampires. What will your Sims get up to after dark?
FEATURES
• Hang out at the hottest spots in town, from dive bars to dance clubs to chic lounges, complete with bouncers.
• Gain fame and fortune as a member of a music band, mixologist, director, or local celebrity.
• Explore certain areas of town in the thick of the night and you may be initiated into the dark life of a vampire.
• Gain excess to exclusive areas and enjoy celebrity perks like penthouse living, luxury hot tubs and cars.
My Thoughts:
Words really can't express how excited I was to play this game, but I will try anyways with a visual depiction of my experiences in game with my very own
Sheri Newton Sim
that is also available to download into your game, if you want.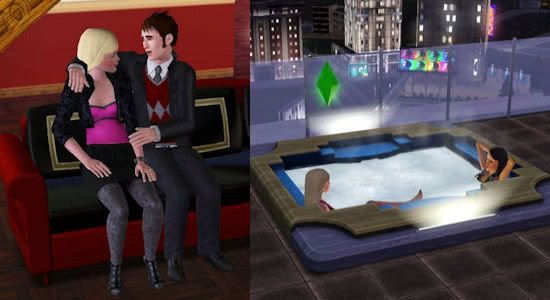 I started out trying to move the Sim version of me to Bridgeport with my Robert Pattinson Sim, but it didn't work out too well. It can probably be done, but I couldn't wait to start playing there, so I ended up just changing the outfits to some new
Late Night
clothes and started over in Bridgeport.
After creating a new game in Bridgeport, I moved into a high-rise apartment. I think the new penthouse/apartment/high-rise system is really great. I had fun living downtown in this area for a while.
Notice the new hot tubs? Yes, they are back too, which is really fun and I'm quite happy they finally decided to give us hot tubs in
The Sims 3
. Also, Sims can go skinny dipping in them and WooHoo in them! You can even steal another Sim's clothing if they are skinny dipping, which is really pretty funny to watch.
Late Night
activities can't go on without going to bars, clubs, and lounges – right? Well, Bridgeport has some really fabulous places for your Sims to get into – if they have the celebrity levels (or cash to bribe their way in) to gain access. Visit a vampire lounge, sports bar, rave like club, or one of the other fun locations available with
Late Night
. Some of these bars even have stages where you can perform – and you don't even have to be in a band to do it, though that is preferred.
My Sim became famous pretty quickly. I may have used some cheats to acquire vast amounts of Simoleons and friends, but so what? Soon she was able to enter all the fabulous clubs, bars, and lounges, and was even chased by the paparazzi!
While exploring the downtown area and venturing out at night, your Sim is bound to encounter some vampires.
I made friends with one and brought him home, and asked him to turn me into a vampire too. It didn't take a lot of begging…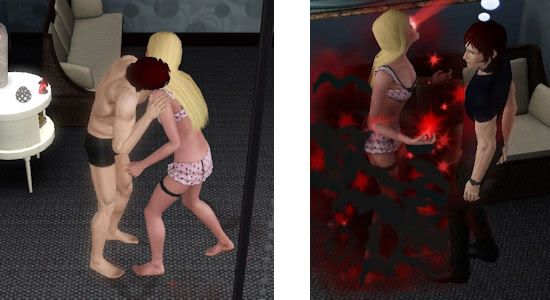 After a few days, my Sim turned into a vampire too! It was a really cool process to watch, and perhaps one of the most wicked things I've seen yet in
The Sims
games.
The Sims 3: Late Night
expansion pack is my favorite
Sims
game that has been released so far. It offers me everything I want from The Sims and provides endless amounts of entertainment, which is really what
The Sims
is all about.
If you or someone you know loves
The Sims 3
, this is a must buy expansion pack – and would make a seriously great holiday present too. If you happen to live with the person you are buying it for, perhaps buy the digital version of it on
Gamers Gate
and secretly download it onto their computer the night before Christmas, and in the morning tell them they have a surprise waiting for them – it would surely be a welcome surprise that they never saw coming!
* Note that you must have The Sims 3 base game already installed on your computer in order to play this.
* Thank you to the publisher of The Sims 3: Late Night, Electronic Arts, and Gamers Gate for providing me a digital copy of this game and allowing me to review it. All experiences and opinions expressed are my own.