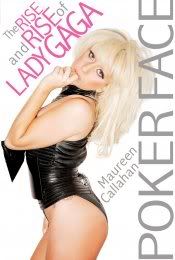 Lady Gaga seemed to have appeared out of nowhere and reached superstar status overnight.
Poker Face
by Maureen Callahan is the account of what actually happened before Lady Gaga became who she is today.
Book Description
"In little over a year, Stefani Germanotta, a struggling performer in New York's Lower East Side burlesque scene, has become the global demographic-smashing pop icon known as Lady Gaga. She is a once-in-a-decade artist, a gifted singer, composer, designer, and performance artist who mixes high and low culture, the avant-garde with the accessible, authenticity with artifice.
Who is Lady Gaga? She is a twenty-four-year-old woman whose stage mantra—"I'm a free bitch!"—is the polar opposite of who she is offstage: isolated, insecure, and unable to be alone. She is an outré artist who wanted to be a sensitive singer-songwriter, whose musical heroes include Britney Spears, Billy Joel, and Bruce Springsteen. She is a woman who says no man can ever compete with her career, but who still isn't over the ex-boyfriend who said she was too ambitious. She claims not to care what people think, but spends her downtime online, reading what people have to say about her. She claims to be a con artist and utterly authentic. She is never less than compelling.
Based on over fifty original interviews with friends, employees, rivals, and music industry veterans, Poker Face is the first in-depth biography of the extraordinary cultural phenomenon that is Lady Gaga." –
Poker Face
My Thoughts
Lady Gaga is one of my favorite artists of all time. I'm the type of music lover that likes things I can sing along to, dance to, and workout to. Judging by how popular Lady Gaga is worldwide, I don't think I'm alone in this.
I never knew how Lady Gaga became famous, or even what her real name was until reading this book. Sure, I could have googled it or whatever, but as her Twitter and Facebook friend, I never really found the need to. I love her for her, regardless of her journey on how she got where she is.
Reading through
Poker Face
by Maureen Callahan, I discovered that she was on
The Sopranos
(one of my favorite series), is Italian, grew up on the Upper West Side in New York City, worked as a burlesque dancer, and much more.
Overall, the biggest thing I got from it is just how dedicated and hard she actually works. This is a woman who really wanted and worked for where she is now, and anyone who disagrees should have their head examined. I enjoyed this book, and I recommend it to all who love, like, or hate Lady Gaga. This is not a book written by Gaga herself, but Maureen Callahan tells her tale from an outsider's perspective in way that almost makes it feel like we were right there with Gaga on the edge of fame.
Thank you to the publisher of Poker Face, Hyperion Books, for providing me with a copy for review. All opinions expressed are my own.