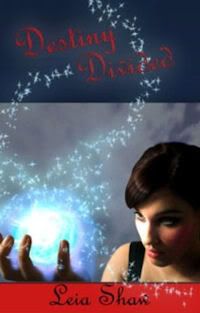 I love reading paranormal romance style books and was really honored to be one of the first to read "Destiny Divided" by Leia Shaw. This is the first book in the series, which I honestly can't wait to read more about. So, if you love paranormal romance books and have an appetite for vampires, witches, and more (oh my) you will want to check out this book too!
Book Description
"Pure power flooded her body flowing freely through her veins. She had just found an emotion stronger than anger and fear combined. Lust. And there was no containing her now."
After fleeing her native city — and nightmares of a traumatic childhood — Sage Peterson meets the overbearing, pretentious, yet haunted Professor Elias. He's the only one who knows about her mysterious powers, which seem to be spiraling out of control. When he convinces her to train with him, she finds herself thrust into a five hundred year war and on the run from vampires, werewolves, and even worse — her budding feelings for James Elias.
James had been living a dull and empty existence for the past century and a half. When a fiery half-sorceress, half-witch with a stubborn streak and sharp wit enters his life, he sees her only as a potential weapon to use against his greatest enemy. But when he discovers the vulnerable woman beneath the angry mask, instinct screams to keep her safe. To protect and provide. And to claim her as his.
But will it be too late? As passion and lust ignite between them, vengeance is slipping away. And when Sage is confronted with fulfilling an unexpected destiny, will she choose to trust James with her heart?
My Thoughts
Let me start off by saying that I haven't been able to find a book since reading the Sookie Stackhouse series that I wanted to stay up past midnight to finish reading in one sitting. I found just such a book with "Destiny Divided." Sure, my eyes suffered and text started to get a little blurry, but captivating books like this one are well worth it!
Oftentimes the main female characters in paranormal books irritate me (think Bella from Twilight). Sage didn't really irritate me though. Sure, she was snarky and didn't trust men, but you know what? I'm like that too and I loved it. Her flaws were funny, somewhat predictable, but yet still managed to have me like her.
James is a sorcerer and a vampire from Wales with a sexy accent. Who wouldn't love that? Add in that he wants to protect Sage and help save his people and well, you'd want to offer him your blood to save him too, right?
The world that the author created was believable and not too complicated to make it hard to read. I also love the fact that Sage often joked about the "Twilight" and "Harry Potter" series, both of which I love.
Overall, if you like paranormal romance, such as "Twilight" or the Sookie Stackhouse series that "True Blood" is based on, you will also more than likely love this book too. I can't wait to read more of the books in the series!
Thank you to the author for contacting me to review the book and providing me with a review copy. All opinions expressed are my own.