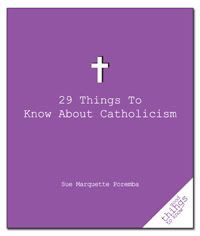 Catholicism is not often understood by outsiders.
29 Things to Know About Catholicism
by Sue Marquette Poremba helps to clarify what Catholicism is really all about.
Book Description
"The Pope. The Holy Eucharist. The Blessed Virgin Mary. The Seven Sacraments. Catholicism is filled with great mysteries, so you've 
probably been confused about this 2,000-year-old religion at one time or another. In 29 Things To Know About Catholicism, the Catholic Church's beliefs are explored in easy-to-understand terms for the devout Catholic and the curious non-Catholic alike.

This quick go-to guide helps answer these questions:

• Was the Catholic Church the first Christian church?

• Do Catholics worship Mary and pray to saints?

• How do I know what to do in Mass with all its Latin chants and prayers, kneeling, holy water, confession, and communion?

• Does the communion bread and wine become the body and blood of Christ?

• Can the priest—a human—forgive sins?"
– 29 Things to Know About Catholicism
My Thoughts
I was baptized and raised Catholic. I'm pretty familiar with everything that goes on in a Catholic Mass and also know quite a bit about the church as a whole. Those Sunday CCD classes really helped with that, even though to be quite honest, most of the time I was really just more interested in the art projects we did.
I don't go to church regularly though, so
29 Things to Know About Catholicism
did help me to remember what I had forgotten from those early Sunday morning teachings. Even though I was raised Catholic, I did learn new things about Catholicism from this book. Now that I live in a heavily populated area of Southern Baptists, I see that they do not understand Catholicism at all – most even think Catholics are "bad" or other negative things. Personally, I would never participate in a religion that puts another one down and preaches to you by yelling, but to each their own I guess. This book would help those confused about Catholicism immensely.
29 Things to Know About Catholicism
is the go-to book for those seeking more information in an easy to read format about Catholicism. I recommend it for all those wanting to learn more about the religion, or even for those just wanting to brush up on the basics, like I did.
* Thank you to the publisher of 29 Things to Know About Catholicism, Turner Publishing for providing me with a review copy of this book. All opinions expressed are my own.