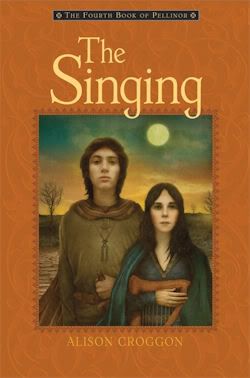 The fourth book in the
Pellinor Series
,
The Singing
by Alison Croggan is the conclusion of the Books of Pellinor. It is the epic story of the Light vs. the Dark set in a time long long ago…
Book Description
"In an increasingly battle-ravaged land, Maerad, Cadvan, and Hem desperately search for one another as they make their separate journeys. The Black Army is advancing north, and even as Maerad faces a mighty confrontation with the Landrost to save Innail, all of the Seven Kingdoms are threatened with bitter and devastating defeat. Yet in Maerad and Hem lives the secret to the mysterious Singing, and legend holds that if they release the music of Elidhu together, they have the power to defeat the Nameless One. Can brother and sister find each other in time to fight this all-powerful enemy, and are they strong enough -- even reunited -- to defeat him before all is lost?

The climactic volume of the epic quartet follows the Bards of Edil-Amarandh on a vital quest to merge their powers against a nameless evil."
– The Singing
My Thoughts
The Books of Pellinor is really a series that wraps you in their world and make you feel like you know these characters and want them to defeat the Dark. From the previous books,
The Naming
,
The Riddle
and
The Crow
, we've met Maerad, Cadvan, Hem, Saliman, Irc, and many more beautifully formed characters that can't help but leave you wondering what happens to them. In some book series you are left with just an end that the author formed and perhaps even leaves out some characters. The Singing thankfully did not do that.
The Singing brings together all of our loved characters and shows how their paths lead them back to one another in their battles with the many faces of the Dark. Not everyone who has touched their lives has lived through the books, but everyone has had an impact on how Maerad and Hem fight in the end.
The end is really good and perhaps ended perfectly (if you ask me), but the story is so good it was sad to finally finish it because I wanted to keep reading more. I however did really like the fact that the author put in at the very end more information (summed up) on how each of the characters lived the rest of their lives.
I personally loved the story from
The Naming
to
The Singing
. If you love fantasy books and want to get lost in this world for awhile (they are rather large books), this is a great story fall into.
* Thank you to the publisher of The Singing, Candlewick Press for providing me with a copy for this review. All opinions expressed are my own.