How to Make Less Toxic, Less Expensive, and More Beautiful Products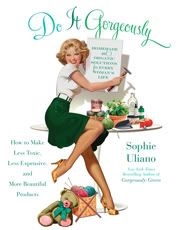 Living an eco-friendly lifestyle is something more people are striving towards. When one first starts moving in the green direction though, it can seem a bit overwhelming.
Do it Gorgeously
by Sophie Uliano teaches in this book how easy it can be while still being gorgeous.
Book Description
"It's official: In these tough times, clueless is out—and crafty is in. For both financial and environmental reasons, life is all about doing well with what you have. But that doesn't mean you can't still be fabulous. Do It Gorgeously shows you how to make nearly everything you would otherwise purchase: From the kitchen to the nursery, from your medicine cabinet to your makeup drawer, you'll be astounded by how easy and inexpensive it is to make safe and eco-friendly products for your family. You deserve to have it all—and now you can do it yourself!"
- Do It Gorgeously
My Thoughts
Eco-friendly products can be very expensive. However, Uliano suggests grabbing some friends and sharing the expense of some of the essential oils and other ingredients needed in her beauty recipes to then make and share. I think this is a fabulous idea! Not only can you have a girls night making fun beauty products, you then get to use them and feel gorgeous!
Uliano writes in a fun, friendly way. She doesn't make any of the projects seem like they are too hard or complicated for anyone to accomplish. In fact, she makes it fun and seem like you'd want to do them all.
Some of the beauty products and other eco-friendly products I tried include: Spicy Holiday Sugar Scrub, yogurt, computer screen cleaner, flea spray for my dog and a few more. I have to say that out of the ones I tried, I loved the Spicy Holiday Sugar Scrub the most. It is really a great exfoliator and really easy to make. My dog perhaps liked the flea spray but she rolled around for at least 5 minutes after applying it (she doesn't like sprays very much).
Some of the ones I will be trying in the near future include the bookcase, milk paint, gardening and composting ideas, beeswax candles, and some of the so cute sewing projects like an apron, dresses, skirt and yoga pants out of a men's t-shirt. Uliano has so many great ideas that I will be trying these projects out for a long time.
I highly recommend
Do It Gorgeously
by Sophie Uliano for everyone wanting to be more eco-friendly and live a more healthy green lifestyle.
* Thank you to the publisher of Do It Gorgeously, Hyperion for providing me with a copy for this review. All opinions expressed are my own.