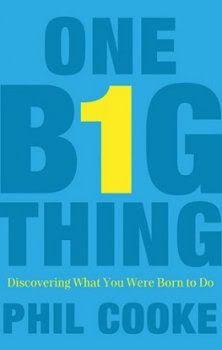 One Big Thing
by Phil Cooke is more than the typical self-help book to guide you on your path to finding what you are good at. This book doesn't guarantee to help you find what your "One Big Thing" is, but does give you all of the tools and inspiration to find it so you can start living a life of purpose for yourself.
Book Description
"
Stop being average at so many things, and become extraordinary at
One Big Thing
.
What were you born to accomplish with your life?
One Big Thing
will help you discover what you were born to do and allow it to revolutionize your business, your ministry, and your life. In today's distracted, digital culture, it's harder than ever to identify your calling, get your voice heard, and achieve your dreams. To stand out and communicate your ideas and message, you need to cut through the clutter and get noticed. Making that happen means focusing on the one thing that drives you, inspires your passion, and separates you from the pack. If you've ever felt pulled in different directions or wondered what to do with your varied talents and interests, Phil Cooke will teach you the secrets of living a life-on-purpose that rises above the noise and leaves a lasting mark on the world.
" –
One Big Thing
My Thoughts
One Big Thing is a very helpful book to help you discover for yourself what you were born to do. There is no list that is given that details what you specifically should be doing, but if you read this book and actually work on discovering it for yourself, you should be able to find what it is that makes you special with your "One Big Thing."
The book is also filled with a large amount of inspirational and excellent quotes from a large variety of famous people. I love quotes, so this stands out for me. There are so many that I'll have to go back later and copy down the ones I really like.
Phil Cooke wrote this book for the mass of people that are living lives that don't really feel like their own. They aren't doing what they were born to do, and aren't really living the life they want. Personally, I feel that this book really spoke to me and shook me up a little to actually do what I was born to do: write. If you need a push to do what you were born to do, this is the book to do it. You might need a gentle push or a hard shove, but reading this book will get you there. I highly recommend it.
* Thank you to the publisher of One Big Thing, Thomas Nelson, for providing me with a copy of this book for review as part of their Book Sneeze program. All opinions expressed are my own.