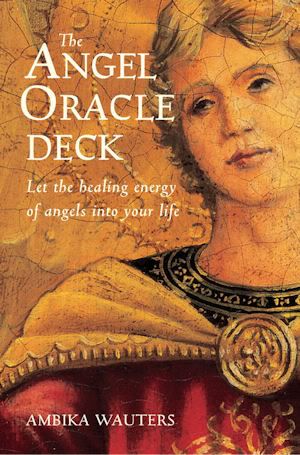 The Angel Oracle Deck
by Ambika Wauters is a beautifully designed angel deck. Both the artwork and the relevance of the angel cards make for truly divine daily guidance. If you enjoy working with the angels and reading oracle cards, this is the perfect deck for you.
Oracle Deck Description
"
Angels have immense power to touch us with their protection, guidance, and love. With this beautiful deck you now have the means to access this divine wisdom from the heavenly realm. You can pick a card to help you with an everyday problem, or you can make a selection to gain past, present and future perspectives on a major challenge.
" –
The Angel Oracle Deck
My Thoughts
The Angel Oracle Deck features beautiful cards with a medieval quality to them. The designs are intricate without being overly fancy. Sometimes oracle cards are filled with too much fluff and background designs, which I feel distracts the reader from reaching the true meaning of a reading. Luckily, this deck doesn't have that, so it makes for a truly remarkable and easy to read deck of oracle cards.
The cards are easy to shuffle, which is a major bonus when it comes to decks of cards. There isn't anything worse (in my opinion) than having a beautiful deck that is too hard or big to shuffle.
There are three different categories that the cards are sorted into. It was a little bit confusing at first when doing a reading, but once you do a few, it isn't hard to figure out at all. As the author suggests, looking at each card, sorting them, and reading all of their meanings before doing a reading, is very good advice.
I really enjoy working this deck of angel oracle cards, and I'll continue to use these often. I found them to be quite accurate for me and easy to read. I highly recommend this deck for others (beginners or advanced users) to use as well.
* Thank you to the publisher of The Angel Oracle Deck, Connections Book Publishing, for providing me with a copy of this book for review. All opinions expressed are my own.