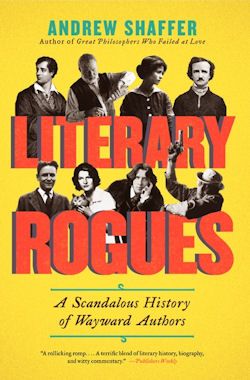 Literary Rogues
by Andrew Shaffer is a humorous look at how racy, scandalous, and quite wild literary authors can be. Read about real life authors such as Edgar Allan Poe, F. Scott Fitzgerald, Oscar Wilde, James Frey, and many more.
Book Description
"
Rock stars, rappers, and actors haven't always had a monopoly on misbehaving. There was a time when authors fought with both words and fists, a time when poets were the ones living fast and dying young. This witty, insightful, and wildly entertaining narrative profiles the literary greats who wrote generation-defining classics such as
The Great Gatsby
and
On the Road
while living and loving like hedonistic rock icons, who were as likely to go on epic benders as they were to hit the bestseller lists.
Literary Rogues
turns back the clock to consider these historical (and, in some cases, living) legends, including Edgar Allan Poe, Oscar Wilde, Zelda and F. Scott Fitzgerald, Ernest Hemingway, Dorothy Parker, Hunter S. Thompson, and Bret Easton Ellis. Brimming with fasci- nating research,
Literary Rogues
is part nostalgia, part literary analysis, and a wholly raucous celebration of brilliant writers and their occasionally troubled legacies.
" –
Literary Rogues
My Thoughts
Literary Rogues is a book that literary lovers will enjoy reading. It would make for a perfect gift for a friend or family member that has a bookcase (or more) filled with literary classics and New York Times bestsellers. Book lovers love books, and this is one that is about many of their favorite authors, so honestly, you can't go wrong!
Andrew Shaffer has a fantastic sense of humor and wit that makes this book easy and fun to read. I learned more about some of my favorite authors, and enjoyed learning that many of them were also quite eccentric and wild. Authors aren't boring people, and this book really shows how true that is! I love it and highly recommend it for everyone who loves reading, which should really be everyone, right?
* Thank you to the publisher of Literary Rogues, Harper Perennial, for providing me with a copy of this book for review. All opinions expressed are my own.