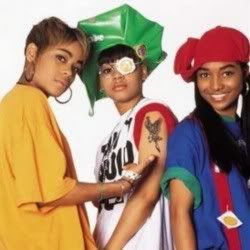 TLC was a female group from the 1990s. I absolutely loved them. They weren't named after "Tender Love & Care" either. TLC was the first letter from each of their names: "T-Boz", "Left Eye" Lopes, and "Chilli" Thomas.
Their sexy and funky attitude made TLC the biggest selling female R&B group. They inspired other female groups to emerge and many fashion trends.
Their albulm for Crazy Sexy Cool was certified 11x Platinum in U.S. They also won many awards which can be seen
here
.
Sadly, on April 25, 2002, Lopes died in a car accident but the remaining members, Thomas and Watkins, had intentions of finishing the album they were working on despite their loss.
One of their best known songs and videos was "Waterfalls" so naturally, I am posting it here for you all to remember and enjoy.
One of my favorite songs was "Creep." I don't know why really, I just really liked it.
I can't end this post without adding "No Scrubs" – the ultimate girl anthem.
Do you remember TLC? Did you like them? Any favorite songs? Videos?