My friend Robyn came to visit me last week, which was awesome. She and I met my senior year of college at UCF. No, not in California people - Orlando! University of Central Florida which doesn't stand for U Can't Finish – because we both totally did! Wow. Even just speaking about Florida my language usage changes. Sorry about that. Moving on…
I live in a pretty small town. Think about all those towns people get off of the highway on and think "Oh my God, who lives here?" Well, I live in one of those kinds of towns. Robyn actually loved it, I was rather surprised. She does love the country though, so it probably shouldn't have surprised me.
We did some shopping at the local Wal-Mart (major fun there, let me tell ya). Next time she comes, I'm going to take her to Birmingham for a better shopping experience. Hopefully we'll both have more money by then to get something cool.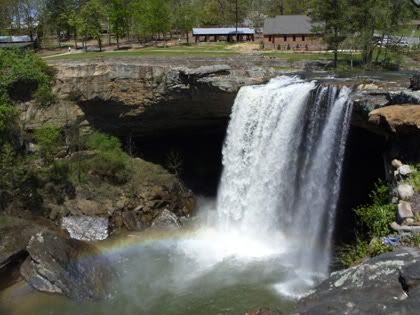 My Mom and I took her to Nocallulla Falls (major tourist attraction lately for visiting relatives and friends huh?). Here is a self-taken photo by yours truly of us while we were there.
*IMG REMOVED
Robyn also loves Twilight, so we had to watch that one night too. I also got her to watch Memoirs of a Geisha because she had never seen it. People either really love it or are indifferent about it, luckily she really liked it.
On Saturday I brought her with me to the paranormal investigation and she signed up to be a new member. Yes, she doesn't live here (yet) but she plans on moving here, so that would rock! Also, she can help out with other things until she does move while she is in FL. Plus, we're closing membership so she had to get in now.
This was the investigation me and another lead were in charge of. The weather was rainy and drizzly and it really dampened our choices on where to go (no pun intended). We had a short investigation and then had a meeting and discussed lots of really positive things that we all want to see happen for the group. Today I'm going over to headquarters and helping with the website. I did make a new desktop wallpaper which may or may not be used with my ghost drawings. Either way though, the website will be kick ass soon and I will reveal what group I am in and you can all go flood the website with love. :)