The Spice Girls
were my favorite girl group of the 90s. I loved dressing up with some of my friends like a Spice Girl – I was always Baby Spice. I loved singing along to their songs and I admit I had a few posters in my room of them too (I loved Big Bopper and all those magazines for posters back then).
When Halloween came around and my friends wanted to still go trick-or-treating I actually dressed up as Emma (Baby Spice). Big platform shoes, pleather jacket, babydoll dress, pigtails (I already had the blonde hair) – and I carried a microphone around with me too. It was fun.
They exploded onto the scene with their hit "Wannabe" which really reminds me of good times with friends in Jr. High and just being goofy. They were a girl group formed in the UK but they really conquered the world with their catchy pop music. Remember Spice World? Yeah, I saw the movie too. Ah, the good ole days when Victoria Beckham was Posh Spice and Mel B was Scary Spice.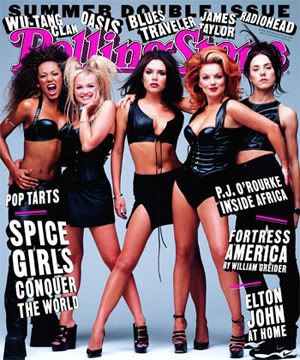 Here is a video of their song "Wannabe." Enjoy!
Did you like the Spice Girls? What was your favorite song? Favorite memory that one of their songs reminds you of?