When
Jon and Kate Plus 8
first aired it was a nice show. I enjoyed watching it and actually liked the parents as much as the kids. The twin girls and the sextuplets were (and still are) adorable kids.
However, since the show originally aired the family changed – a lot. It wasn't as visible the first few seasons as it has been since last season and especially this season (and all those scandalous rumors).
In the beginning they struggled and didn't receive as many freebies. They had a nice middle-class house and now live in an over $1 million estate mansion. However, now they are getting up to $75,000 per episode in a 20-episode season on their TLC show totally $1.5 million a season. That doesn't include Kate's book deal or public speaking engagements. That also doesn't include all of the freebies they get either. Who knows how much all of that totals?!?
As stated in
US Weekly
, here is a sample of just some of the swag they've scored:
- Free beds
- Front-loader washing machines
- New furniture
- Free solar panels for "Going Green" episode
- Clothes from Gymboree and Gap
- Mady & Cara birthday at American Girl Place (2 dolls and birthday package for 2 adults & 2 kids): $710
- Trip to Florida Key's for Jon's 30th birthday
-Tickets to Dutch Wonderland amusement park: $309.50
-1/2 an organic cow from Natural Acres Farm: $1,395.00
-Tickets to Philadelphia Zoo: $104.00
-Tickets to Walt Disney World: $654.00 per day
- Utah house rental (estimate: $5,000), ski lift tickets $72 for six days), ski school lessons ($140 per child)
- Upright piano, which they got rid of when they moved into their new $1.1 million home : $5,550-$6,350
- Violin: $100-$300
- Old house re-carperted
-Crayola Factory Tour: $90.00
-Teeth Whitening (for Jon & Kate): $1,310 (average price for 2 adults)
-Hair plugs (Jon): $5,200 (average cost)
-Sesame Street Place tickets: $509.50
-Day with Thomas the Tank Engine: $180.00
-Beach trip to North Carolina, house rental, Jeep tour
-Sight & Sound Christian theatre tickets: $236.00
-SkyBox at Phillies game
-LegoLand tickets: $550.00
-San Diego Zoo tickets: $278.00
-Grand Wailea Resort (Hawaii) for 2008 vow renewal: Suites range from $725-$1,080 per night.
-2 purebred German Shepherd puppies: $1,000-$3,000 per dog
- Please Touch Museum tickets: $150.00
- Giants grocery store: $5,000 in gift cards and a year's supply of diapers
Quite a change in lifestyle for them. As stated in that article, "Kate, who grew up in a trailer park and didn't go on her first airplane ride until her honeymoon to Disney World, now flies only first class for speaking engagements (mostly paid for by churches), sells signed photos of her kids for $20 a pop at appearances, and received a free tummy tuck after giving birth (Jon received a free hair transplant). A family source says while pregnant with the sextuplets, she grew "obsessed" with how many goodies the famed McCaughey septuplets received in 1997.
Jon, now a stay-at-home dad, was fired from his job at Style Craft Corp in 2004 after "spending much more time" on a "quest" for freebies than working, the company's owner, David Rothermel, tells Us. (Rothermel finally has spoken out after growing furious at the couple's well-worn claim that he was fired because the company didn't want to insure his family.)
"Instead of keeping the attention on their kids, they've let the attention turn to money and fame," says a family source of Jon and Kate."
Money and fame does seem to be all Kate is after and Jon just wants to be out of the public eye. Is that a rational reality for them though?
US Weekly first spotted Jon Gosselin with Deanna Hummel – without his wedding ring – in his car outside Legends Lounge at 2AM on April 19, 2009. They also claim that five sources confirmed to them that Jon has had a 3-month affair with the 23 yr old schoolteacher.
Kate has also been rumored to be with her bodyguard. However, I am just not buying that story. In the interviews on the show this season it seems much more like she was the one trying to keep the marriage together and that Jon was the one who abandoned her.
Who is to blame? It isn't our place to judge that. It is a very sad thing that has happened and they should have left the show to work on their marriage in my opinion. Free stuff and money should not have ranked higher on their priorities than working on their marriage.
Their kids should have mattered more to them. Also, their "schedule" of switching weeks in their house so the kids don't have to move is not a good arrangement in my opinion either. How horrible will it be for the ex to have the new girlfriend or boyfriend over and staying in their room when they switch weeks? I just don't get it.
TLC
has decided that after the couple announced their separation and then divorce on last night's show, that it will put the show on hiatus until August 8th.
They stated that, "TLC continues to support the Gosselin family and will work closely with them to determine the best way to continue to tell their story as they navigate through this difficult time," the statement read."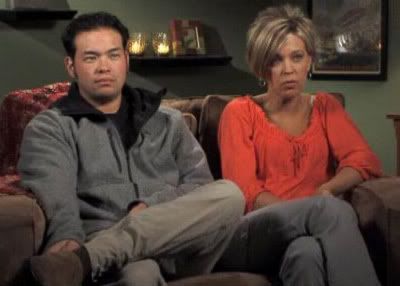 Wouldn't canceling the show and letting the family go through this without being filmed be what is best for everyone involved? These are not happy memories the kids will look back on and reflect anything positive from – why do that to them?
What are your thoughts on all of this?