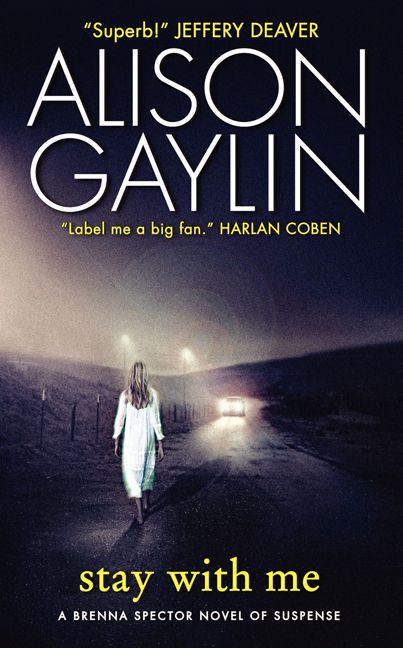 Stay With Me
by Alison Gaylin is the third book in the Brenna Spector novel series. The main character, Brenna, has "hyperthymestic syndrome" which means she remembers everything. It isn't necessarily the blessing one would think. It can recall bad memories, and the ability to re-live them in full detail. It can however, be very helpful when solving cases.
Book Description
"
When the past intersects with the future . . .
Brenna Spector is held prisoner by the past. She has perfect memory, which allows her to recall in vivid and remarkable detail every moment of every day of her adult life. If only she could remember more from her child-hood . . . for she's still trying to unravel the mystery of her sister Clea's disappearance twenty-eight years ago when Clea was seventeen. But now her obsession with finding out what happened to Clea is taking a toll on her own teenage daughter, Maya, who's been very secretive lately. And when Maya goes missing, Brenna fears her worst nightmare has come true.
. . . the outcome can be dangerous
As Brenna relies on her P.I. skills to find her daughter before it's too late, evidence surfaces showing a possible link between Maya's disappearance and Clea's. But could a case from three decades ago really be connected to her daughter? Or is someone hoping that Brenna will play along in a twisted game—one that there's no chance of winning . . . or surviving?
" –
Stay With Me
My Thoughts
Stay With Me is another fun, suspenseful read that features Brenna Spector. Alison Gaylin makes this series better with each book, and this one is exceptionally better. I have thoroughly enjoyed reading this series, and look forward to reading more by this author!
For this installment in the series, Brenna is still trying to find clues and solve her sister's disappearance almost 30 years ago. However, focusing on this has seemed to make her own daughter, Maya, more secretive and she goes missing in this novel. With Brenna's awesome PI skills, she starts to discover that her sister and her daughter's disappearances could possibly be connected. How could that be though? No spoilers here, you have to read to find out!
This book will keep you hooked from the beginning right up to the end. I really enjoyed it, and think you will, too. I highly recommend this book and the series!
* Thank you to the publisher of Stay With Me, Harper, for providing me with a copy of this book for review. All opinions expressed are my own.