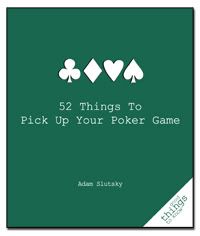 Poker is the card game to play to win big money, right? Well, it can be – if you are good at it and know how to play the game behind the actual card game, and have a pretty good set of luck.
52 Things to Pick Up Your Poker Game
by Adam Slutsky is the book to teach you how to make your poker game better.
Book Description
"At the poker table, just like in the ocean, baitfish get gobbled up by sharks. To help you ascend to the top of the poker food chain, 52 Things To Pick Up Your Poker Game answers all the game's most important questions with over 50 tips and strategies to give you the upper hand. So whether you're a seasoned pro or a bare-bones beginner, this handy, information-packed guide will take your poker game to the next level by helping you discover:

- Bluffing techniques and when to use them—or not use them
- Winning strategies when you don't have a winning hand
- What players to choose or avoid as your opponent
- How to help determine your opponent's hand
- How to capitalize on your opponent's weaknesses and your strengths"
– 52 Things to Pick Up Your Poker Game
My Thoughts
I've played poker, not for money or anything though. I don't think I have a very good poker face and if I ever did want to play for money, I would really need to brush up on better strategies to play. That being said,
52 Things to Pick Up Your Poker Game
did help me understand poker much better.
The book covers basics that most people should logically know like you are there to make money and not friends, budget your money and only play what you can afford to lose. It also explains things that most people when starting out playing poker for money don't usually really know such as the importance of taking breaks, trusting your gut, being healthy helps, wear shades not because they look cool, but so people can't see your eyes and you can look wherever and people won't know what it is you are looking at – and so much more.
Overall, I found
52 Things to Pick Up Your Poker Game
by Adam Slutsky as a great investment book for anyone who wants to play poker and actually win money (or keep your clothes on if playing that way). Think of it as an investment for your future poker winnings.
This book is part of Turner Publishing's
Good Things to Know series
which "focuses on simple, pragmatic actions that can have a strong and lasting impact in the lives of readers." – Turner Publishing.
* Thank you to the publisher of 52 Things to Pick Up Your Poker Game, Turner Publishing for providing me with a review copy of this book. All opinions expressed are my own.