CSN Stores contacted me for a review of their stores. I received a gift card of $40 and could purchase what I wanted with it. They offer over
200 online stores
which carry such a wide variety of items! Needless to say, I was highly excited. Read about my pre-review post
here
.
I originally wanted to purchase a new bookshelf. However, the ones I really liked were quite a bit over the $40. So, I saved those and put them on my mental wishlist for a later time. I then searched for New Orleans, French Quarter, Vampires and Fairies. I found so many things I wanted (they unfortunately did not have anything in the vampire search except for a puzzle though – maybe soon they'll have more though).
Out of the 50+ things I would like, I settled on two amazing fairy items. I did have to pay a little extra for shipping and such, but I didn't mind one bit!
Household Fairies Book Fairy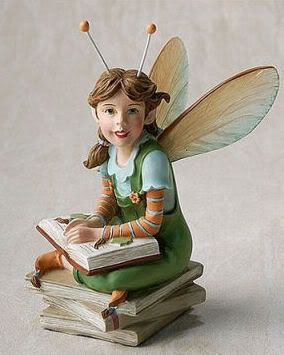 How cute is this? Two of the items I love most: books and fairies together! This book fairy figurine is the perfect fairy item to put on my bookshelf or by the books I have stacked up to review. Maybe she can be a good little fairy and keep them all nice and clean and organized for me while I sleep!
Tapestry Throw Blanket - Nene Thomas - Flamenco Fairy
I absolutely just had to have this when I first saw it offered by CSN Stores. I've wanted this very throw blanket since I first saw it in Pyramid Collection's catalog. If you think it is pretty in the picture, I can assure you that it is even better in person!
Thank you to CSN Stores for providing me with the $40 gift card for this review. All opinions expressed are my own.