I have been slacking on this post. Partly because I am really busy with school and writing jobs. However, I also am finding it hard to find many things to "love" the past few weeks. I won't write about life's annoyances on this post though, as it is my lovelist. Hope you enjoy what I came up with and have a great week!
4th of July
I hope all those in America celebrated the 4th of July and had a great weekend. My Aunt and Uncle visited from North Carolina. We had a fun time while they were here.
The family party I went to was on the 3rd, we had drunk chicken. Take a look…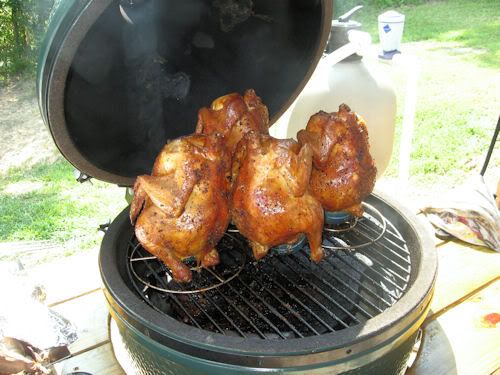 My Uncle in Texas calls it "beer butt chicken" so I guess either way works.
I wasn't able to go out on the boat and look at fireworks though because my dog was having seizures again that day, and well I had to stay home with her and my Aunt and Uncle's dogs too. Dogs do not like fireworks. It was really hectic for me watching them all – especially after mine had another seizure. She is doing okay right now though, so hopefully she gets better again for awhile.
Exams
Not sure if this should be on the lovelist, as it has made me nuts the past bit, so I'll just post my recent grades:
Anatomy & Physiology
: 95, 80, and a lab midterm is tomorrow. I really need to get an A again on that to keep my average of an A. ::fingers crossed::
Human Growth & Development
: 100, and an exam this week too. I'm not overly worried about this one though.
I hope next semester isn't as stressful as this summer term has been.
New Layouts & More to Come!
I used blogger's new template for my
portfolio
and my blog to make them over. Have you noticed? The one on my blog isn't really very noticeable yet. I just changed it over to make it a little easier on me now before I completely re-do it.
I'm hiring 2 fantastic artists I found from Deviant Art to commission something for me. One is going to be on here, which I am really excited for and the other may be a future layout, or for my portfolio, and will also maybe end up as artwork in my room. I'm really excited! They are fantastic ladies, and I can't wait for you to see what they can do too.
New Giveaway
I love getting to host giveaways, and in case you haven't yet entered to
win Self Confidence by Paul McGee
, go do so before the 20th for a chance to win this great book!