You know how I love doing reviews, and while I was checking my mail the other day, I was pleasantly surprised to see that CSN Stores contacted me to do a review with them. They have 200 stores online, so I knew I would be sure to find something (probably many somethings) I'd want to review.
After I save money from being a traveling nurse, I plan on buying a condo in New Orleans French Quarter or a mansion in the Garden District (maybe both one day). I'll have to find some really nice things to furnish it with, and CSN Stores
dining room furniture
store has the perfect sets I'd love to one day get for them.
For the French Quarter dining room:
Hillsdale Embassy 5 Piece Cherry Counter Height Dining Table Set
For the Garden District dining room: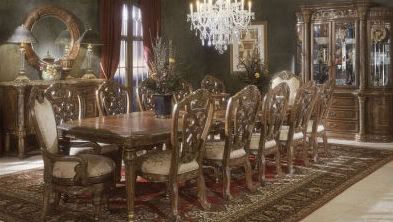 AICO Torino 11 Piece Rectangular Dining Table Set in Espresso
That is still quite a few years away, but setting my goal now for those things is a good idea, at least to me. It gives me focus on the bigger picture when I'm exhausted from studying at least. :)