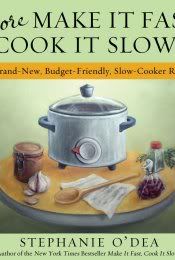 More Make it Fast, Cook it Slow
by Stephanie O'Dea is a cookbook that uses recipes for cooking with a slow-cooker (crockpot). It is also a gluten-free cookbook, but as the author says, the recipes can all easily be altered to suit your tastes or food allergy restrictions.
Book Description
"The New York Times bestselling author of slow-cooker cookbook Make It Fast, Cook It Slow returns with budget (and gluten-free!) meals that will satisfy the entire family. Stephanie O'Dea's 200 delicious recipes include
• Baked Herbed Feta
• Smoky Bean and Corn Soup
• Maple-Glazed Pork Chops
• Moroccan Chicken with Lentils
• Apple-Pecan Bread Pudding
• Orange and Honey Tilapia
• Chocolate Pot de Crème with Ganache
—and many more. More Make It Fast, Cook It Slow is the perfect cookbook for easy-to-prepare meals that don't take a toll on the family budget."
–
More Make it Fast, Cook it Slow
My Thoughts
More Make it Fast, Cook it Slow
is really a cookbook that is for people who may not like to cook so much. The recipes are all for the crockpot, which is actually a fabulous way to cook if you don't have the time to cook over the stove for a long amount of time (or perhaps burn things often). The recipes are also all gluten-free and range from costing $7 and under to $15 and under (and serve 4 people).
Some of my favorites included in the cookbook:
• Ranch Party Mix
• Baked Potato Soup
• Old-Fashioned Chicken Noodle Soup
• General Tso's Chicken
• Lemon Pudding Cake
• Mint Chocolate Fondue
• Witches Brew – very fun for Halloween!
• Sun-Dried Tomato Risotto
• Turtle Pudding
Overall, I love the cookbook. I've never really been too into cooking with the crockpot, but this has my mind changed on how easy it is to use! You really just have to prepare it, and then set it and come back when it is ready and eat! The recipes including in the cookbook are fun, yummy, and really very affordable.
* Thank you to the publisher of More Make it Fast Cook it Slow, Hyperion, for providing me with a copy of this book for review. All opinions expressed are my own.