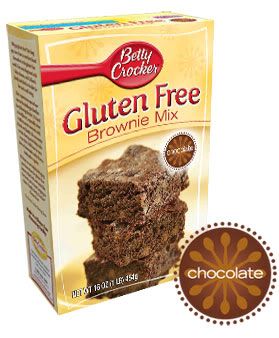 Betty Crocker
has some new mixes out that are
gluten free
! I bought the brownie mix because I really miss eating brownies. They also have in gluten free: yellow cake mix, devil's food cake mix, and chocolate chip cookie mix. I'll be trying each of these over this year too.
I was so excited when I saw this box available at the store. For people who are gluten intolerant, or have celiac disease, like me, this is amazing! Seriously, try going a week without eating gluten and you'll see what I mean.
Apparently the people at Betty Crocker also had people that worked there with such experiences as I've faced recently: going to family events only being able to eat things like carrots and pineapples and feel taunted by the brownies, cakes, sandwiches, pizza, and other goodies everyone else can eat. So, they decided to make gluten free desserts, and also give back to the Celiac Disease Foundation and the Celiac Sprue Association.
Some things I've eaten that are gluten free that are masked as regular food just taste like awful cardboard messes. I was really hoping that this was not the case with the Betty Crocker brownies. Luckily, I was not disappointed in any way. Betty Crocker promises delicious homemade taste every time, and from these brownies I was satisfied! They were moist, chewy, chocolatey and actually tasted better than brownie's I've had before! Plus, being gluten free I didn't get sick from eating them! Gotta love that!
* This is not an advertisement at all. I bought the product and loved it so much I wanted to share it with all of you. Thank you Betty Crocker for allowing me to eat brownies again – gluten free!