I think I would like to start a weekly Lovelist. I am getting the idea from a fabulous bloggy friend,
Andhari
, who if you do not know (and I greatly suggest going to give her a visit) is a super smart, sexy and talented woman over in Indonesia.
I think the idea of having a post each week (if I can remember to do so) about what I loved that week is a good idea, don't you? It can allow me to enter in random info about things I liked that week and share with all of you.
Starting off with last week….
My Dog!
My dog was doing really badly the past few weeks. She was getting seizures and would walk around the room for hours, bumping into things and just walking the perimeter of the room. She is old, and can't see and hear as well as she used to. It was really scary for about 4 days with her – we almost thought she was going to pass away soon. She would hardly leave her bed, and was very unstable when walking, and wouldn't eat much at all.
Luckily though, she got her spunk back and is acting pretty normal again. Sure, she doesn't run around like a puppy anymore (but she hasn't for years). She is able to walk much better, is eating and begging, and doing well. I'm soo relieved and truly thankful she is still with us.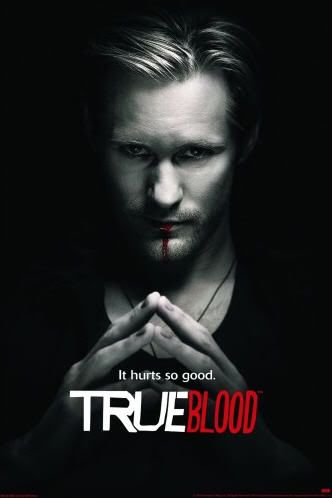 True Blood
Season 3 of True Blood is fangtastic! You know it is my favorite series on TV, and I keep all episodes saved on my DVR until they are released on DVD. Yes, laugh all you want, but I love it. The first episode we got to see Eric Northman (played by Alexander Skarsgard) practically naked (well the backside anyways), so hot? Yes! This season it looks like we will be seeing much more of Eric, and I for one have absolutely no objection to that! Also, it looks like they are going to rush the whole Jason turning into a Werepanther sooner than I thought. At least they are going to have Tara hook up with a vampire like she did in the book series (it probably won't go well in the TV series for her either). I wonder if they will also be introducing her fairy cousins this season?
True Blood - Eric Poster
I have a new poster of Eric hanging in my bedroom – right over my TV. It hurts so good – but, I like it. I can see how some of you may think I am really odd for having a vampire with blood dripping down his chin stare at me while sleeping. Honestly, it doesn't bother me. I would invite Eric into my house any day (or um, night).
Getting Good Grades
Studying hard and making good grades is always the goal, but let's face it – sometimes that just doesn't work out like it should. Last week I had 2 exams, and did awesome. I made a 94 in Anatomy and Physiology and I made a 96 in Psychology: Human Development. Neither were "easy" exams either. Just because a course is in the summer does NOT make it easier to pass – quite the opposite really.
Fixing My Crashed PC
Somehow I managed to fix my old PC that crashed on me a few months ago. It died horrendously due to some awful malware and I was unable to recover it. However, after thinking about possible solutions for a few months, I decided to test some out – and it worked! It isn't as good as the laptop though, and quite honestly I do still need a new and updated one. It is at least good enough for browsing the web and such. Running is better than being crashed into a PC graveyard though.
Shop Therapy
This weekend I really wasn't expecting to buy anything at the mall. I went in looking for a new bathing suit and ended up with 2 sets of gold over sterling silver smoky quartz stud earrings (severely discounted) and an amazing pajama set for $50. I tried finding a picture of it at the store's website, but apparently it is too new to be on there. I have a perfect silk kimono style brown robe to go with it too. It reminds me of New Orleans. Love it!
Surviving Father's Day
I would love to know of a family that doesn't have any family drama. Mine certainly has its fair share (and probably some of the dose of those lucky families that have none), so having Father's Day go off without an argument or anything was quite nice. I even chatted with some family members more than usual, and it was quite nice and genuine (or at least I thought so). Hopefully events will continue like that, if not better.
More Reviews
I love writing reviews, so getting more reviews (even some I didn't even have to request) really makes me happy. Thank you so much to all of the publishers and press people who make my dream of being a reviewer come true!
Giveaways!
I love when I am able to host a giveaway, such as the one that ends today for
Babushka's Beauty Secrets
(seriously, go enter it – it is a fabulous book)! I also won something this week – a build-a-bear panda (or leopard)! Yay!
So, how did you like my lovelist? I hope you enjoyed it, and if you liked it, please let me know so I will continue to do this, if Andhari doesn't mind I'm using the lovelist idea. :)