I have been honored with receiving two awards recently. I am truly honored, and feel all warm and fuzzy. Thank you so much! I love getting awards and being able to pass them along as well. So, thank you again! I really appreciate it.
You Are Truly Beautiful
I have been awarded with this You Are Truly Beautiful Award from
Nickie
. Thank you so much!
The award of course come with a few rules:
Find the 7 most beautiful ladies that you follow.
Give them this award.
Hopefully it'll truly mean something to each and every one of them.
Don't be shy to give it to the same person!
Don't forget to tell them!
Now onto the 7 ladies and anyone else that reads this blog can accept this award too! All you ladies are beautiful!
Butterfly Award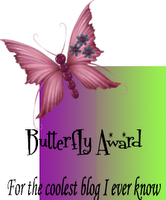 I have been awarded with this beautiful Butterfly Award from
Nennie
. Thank you so much!
Here are the rules:
1. Put the logo on your blog.
2. Add a link to the person who awarded you.
3. Award up to 10 other blogs.
4. Add links to those blogs on yours.
5. Leave a message for your awardees on their blog.
I have a hard time picking those to award, so since I have 2 awards up here I am going to give both of these to each of you below. Also, if you aren't listed go ahead and take it! You are awesome and beautiful too!
Nickie at
http://bunnnichick.blogspot.com/
Lee at
http://cossiethegreat.blogspot.com/
Andhari at
http://littleinsomniaclolita.blogspot.com/
BIBI at
http://unnrestedsoul.blogspot.com/
Nennie at
http://nennisworld.blogspot.com
Shareen at
http://celefinwe.blogspot.com/
Brenda at
http://brendasusan.blogspot.com/
Liz at
http://tidbitsfromliz.blogspot.com/
Paula at
http://welcomingspirit.blogspot.com/
Teri at
http://cold-lemonade.blogspot.com/
Lamont at
http://lamont-uphill.blogspot.com/
Jillene at
http://jillenecox.blogspot.com/
Cat at
http://zipbagofbones.blogspot.com/