I just finished cleaning up my desk and thought up a great idea for a Blog Tagging post. Why not start a "Desk Tag"? I wrote up the rules to follow below and am requesting people comment on this post if they were tagged and posted it. Why? Well, I am interested to see how many people will do it, and I think it is a fun way to see other people's desks. So, here you go!
You have been tagged to take a picture of your desk and post it on your Blog. Clean, messy, however it is that you want to show to everyone.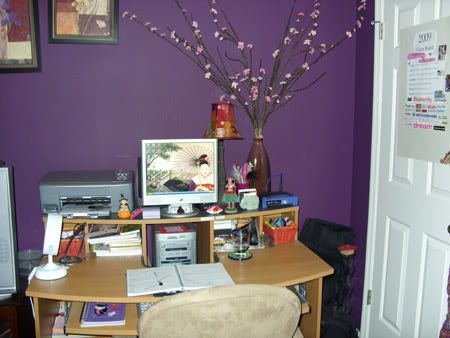 This is my desk. It is in my bedroom and takes up too much space. It has been put together twice now and I don't honestly want to ever take it apart and put it back together again. What a pain! My bobble hula girl is from Ron Jon Surf Shop in Cocoa Beach, FL. Reminds me of home and I love it! The cherry blossom fake flower/tree I have I bought from Pier 1 Imports (I used to work there). I love cherry blossom trees and just had to get this! Plus, I love how it adds height and dimension to that corner in my room.
What you need to do:
1. Post a picture of your desk.
2. Link to the person who tagged you.
3. Write a little bit about the things on your desk or even about the desk itself.
4. Tag as many or as few people as you'd like.
5. Go to
http://xsherix.blogspot.com/2009/01/desk-tag.html
and leave a comment on the original "Desk Tag" post please!
Tagged:
If you are reading this, consider yourself tagged! I want everyone to get in on the action with this one.
So, there you have it. You have been chosen to play the new game of Desk Tag. I hope you all participate!