You may have noticed my lack of blogging lately. It isn't because I haven't wanted to. I've just been really busy.
My Mom and I have been making a ton of jewelry for an upcoming event we're going to be in. For privacy reasons, I'll post the full info on that after the event. Anyways, here is a mock-setup of our table.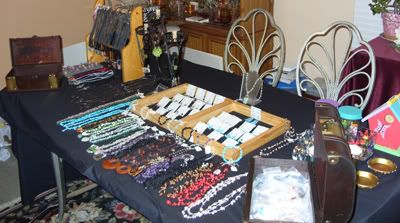 The table we have there will be bigger than this so it won't be as crammed or we can have more out. What we have ranges from $2 to $40. The best bargain (I think) is the treasure box full of earrings (170 pairs to be exact) that are only $5 each! All of the jewelry has real gemstones too, so I think it is all quite a good deal.I really hope we do well at the event. I'll take pictures there and write all about it, so stay tuned!
I've also stayed busy this week getting together the final details of my New Orleans trip. I'm so excited about it! I haven't mentioned it yet because I didn't want to divulge too much information about it.
I'm still undecided on if I will do blog posts on it in real time (every day or every few days) with what I do while there, or if I will just write a single post when I get back. I am however doing some local pieces while I am there for Associated Content, which I will post links to on here too. I'm also really excited about this.
Check out the issue of Entertainment Weekly I got in the mail…. Ah so hot! An issue featuring the 20 hottest vampires of all time. If I didn't already get EW, I would have gotten it at regular price just for this. Plus, the picture on the right of the new poster of Edward for New Moon is amazing! I may just have to buy this. That and a really hot one of Eric from True Blood.
I'll try to blog more this week if possible, but until the event I'm unsure if I will get a chance to do so. Only one I can promise until Sunday is the recap of yesterday's episode of True Blood.