Wednesday we went to
Edgar Degas House
just outside of the French Quarter. It is really worth venturing off the regular path to visit. The video they showed about Edgar Degas and the house was terrific. The tour was also given by a descendant related to Edgar Degas himself. Very cool. I'm writing an article about here as well, so check that out soon. They do not however allow photographs to be taken inside, so here is one I took outside.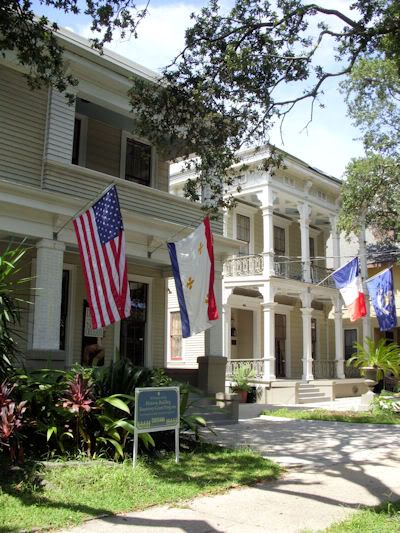 A little later in the day, we went to the
Elms Mansion
. It is an absolutely breathtaking mansion in the Garden District of New Orleans. This is another article I am writing about, but here is a picture I took while there and I strongly urge you to go to their website to see the inside of the house – gorgeous! When I get married one day, I'd love to have my wedding here too. Beautiful!
On the way back I tried to see where the
New Orleans Real World House
was. It is at 2618 St. Charles St, but I wasn't able to take a good picture while we were driving by. Oh well.
While I was navigating us back to the hotel, I realized we'd be driving right past St. Louis Cemetery #1. Being a paranormal investigator, I just had to stop and take pictures. Luckily, we were able to get a place to park next to it and I walked through there alone and took some pictures. Here are a few I took (I took almost 75 pictures in all).
That night we also went on the
Spirit Tours
Ghost and Vampire Tour of the French Quarter. We had a nice tour guide who was a great story teller. However, they did not take us into a bar or stop to rest anywhere. Our feet were soo tired when we got back to the hotel. I'm writing an article about them as well, so here are some pictures for now….